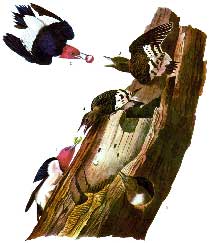 Features: Some woodpeckers and wrynecks in the order Piciformes have zygodactyl feet,
with two toes pointing forward, and two backward. These feet, though adapted for clinging to
a vertical surface, can be used for grasping
or perching. Several species have only
three toes.
The long tongue found in some woodpeckers
can be darted forward to capture insects.


They Peck Wood: Woodpeckers gained their English name because of the habit of some species of tapping and pecking noisily on tree trunks with their beaks. This is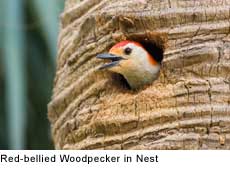 both a means of communication to signal possession of territory to their rivals, and a method of locating and accessing insect larvae found under the bark.
In Search of Food... The woodpecker first locates a tunnel by tapping on the trunk. Once a tunnel is found, the woodpecker chisels out wood till it makes an opening into the tunnel.
Then it worms its tongue into the tunnel to try to locate the grub. The tongue of the woodpecker is long and ends in a barb. With its tongue the woodpecker skewers the grub and draws it out of the trunk.

Nests and Nestlings: Woodpeckers also use their beaks to create larger holes for their nests which are 15-45 cm (6-18 inches) below the opening. These nests are lined only with wood chips and hold 2-8 white eggs laid by the females. Because the nests are out of sight, they are not visible to predators and eggs do not need to be camouflaged. Cavities created by woodpeckers are also reused as nests by other birds, such as some ducks and owls, and mammals, such as tree squirrels.

Woodpecker Trivia:
In February 2005 the Canadian scientist Dr. Louis Lefebvre announced a method of measuring avian IQ in terms of their innovation in feeding habits. Woodpeckers were named among the most intelligent birds based on this scale.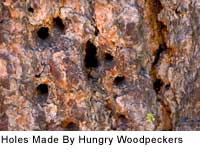 The term "Peckerwood," an inversion of "Woodpecker", is used as a pejorative term in the United States. This word was coined in the 19th century by southern blacks to describe poor whites. They considered them loud and troublesome like the bird, and often with red hair like the woodpecker's head plumes. This word is still widely used by southern blacks to refer to southern whites.
All text is available under the terms of the GNU Free Documentation License