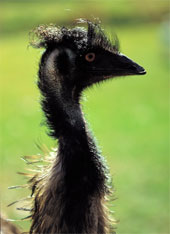 Weights and Measures: Emus are large flightless birds that reach up to two metres (6.5 ft) in height (1–1.3 metres (3.2-4.3ft) at the shoulder) and weigh between 30 and 45 kilograms (66-100 pounds). They have small vestigial wings.

A Runner's Body: Their ability to run at high speeds is due to their highly specialised pelvic limb musculature. Their feet have only 3 toes and similarly reduced number of bones and associated foot muscles; they are also the only birds with gastrocnemius muscles in the back of the lower legs. Compared with other birds the pelvic limb muscles of Emus have a similar contribution to total body mass as the flight muscles of flying birds.
Plumage: Emus have brown to grey-brown plumage of shaggy appearance; the shafts and the tips of the feathers are black. Solar radiation is absorbed by the tips, and the loose-packed inner plumage insulates the skin. The resultant heat is prevented from flowing to the skin by the insulation provided by the coat, which allows the bird to be active during the heat of the day. A unique feature of Emu feathers is its double rachis emerging from a single shaft. The sexes are similar in appearance.


Who Needs an Air Conditioner? On very hot days, the Emu pants to maintain body temperature: its lungs work as evaporative coolers and, unlike some other species, the resulting low levels of carbon dioxide in the blood do not appear to cause alkalosis. They must replenish their fluids by drinking every day; emus do not waste water: for normal breathing in cooler weather, they have large, multi-folded nasal passages. Cool air warms as it passes through into the lungs, extracting heat from the nasal region. On exhalation, the Emu's cold nasal turbinates condense moisture back out of the air and absorb it for reuse.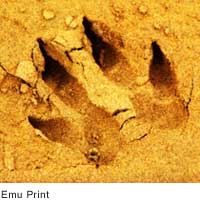 Habitat & Migration: Emus live in most habitats across Australia. They are
most common in areas of sclerophyll forest and savanna woodland, and least common
in populated and very arid areas. In Western Australia, Emu movements follow a
distinct seasonal pattern—north in summer and south in winter—but further east, their wanderings are more random. Emus
are powerful swimmers, capable of crossing rivers—something they need to do from time
to time as part of their wandering.

Solitary Emu: Emus are largely solitary; they roam the continent searching for the best feeding areas, and although they can form enormous flocks, this is atypical social behavior that arises from a common need to move towards food sources.
No Canary: Their calls consist of loud booming, drumming and grunting sounds that can be heard up to two kilometres away. The booming sound is created in an inflatable neck sac.
Emu Eats: Emus forage in a diurnal pattern. They eat a variety of native and introduced plant species; the type of plants eaten depends of seasonal availability. They also eat insects, including grasshoppers and crickets, ladybirds, soldier and saltbush caterpillars, Bogong and cotton-boll moth larvae and ants. In Western Australia, food preferences have been observed in traveling Emus: they eat seeds from Acacia aneura until it rains, after which they eat fresh grass shoots and caterpillars; in winter they feed on the leaves of Cassia pods; in spring, they feed on grasshoppers and quandong fruit. Emus may serve as an important agent for the dispersal of large viable seeds, which may contribute to the maintenance of floral biodiversity in some areas.


Summer Fling: Emus form breeding pairs during the summer months between December and January, and may remain together for about five months. Mating occurs in the cooler months between May and June. This varies in tropical Australia, where the seasons are reversed and it rains in summer; here, mating starts just before "the wet", and emus are reliably reported to delay mating if the season is late. The mechanism for this remains unknown.

During the breeding season, males experience hormonal changes, including an increase in luteinizing hormone and testosterone levels, and their testes double in size. Males lose their appetite and construct a rough nest in a semi-sheltered hollow on the ground from bark, grass, sticks and leaves. The pair mate every day or two and every second or third day, the female lays.

Emerald Eggs: On average, she will lay 11 very large, thick-shelled, dark-green eggs, but as many as 20 may be laid. The eggs are on average 134 x 89 millimeters (5.3 x 3.5 inches) and weight between 700 and 900 grams (1.5-2 pounds), which is roughly equivalent to 10 to 12 chickens eggs in volume and weight. The first demonstrated occurrence of genetically identical avian twins was demonstrated in the Emu.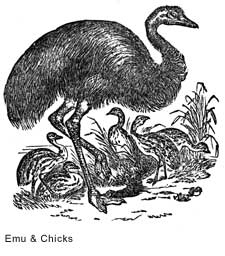 Mister Mom: The male becomes broody after his mate starts laying, and begins to incubate the eggs before the laying period is complete. From this time on, he does not eat, drink or defecate, and stands only to turn the eggs, which he does about 10 times a day. For the next eight weeks, he will survive on stored body-fat and on any morning dew he can reach from the nest, and will lose a third of his weight.

Run-around Emu: As with many other Australian birds, such as the Superb Fairy-wren, infidelity is the norm for Emus, despite the initial pair-bond: once the male starts brooding, the female mates with other males and may lay in multiple clutches; thus, as many as half the chicks in a brood may be fathered by others, or by neither parent as Emus also exhibit brood parasitism. Some females stay and defend the nest until the chicks start hatching, but most leave the nesting area completely to nest again; in a good season, a female Emu may nest three times.
Doting Father: Incubation takes 56 days, and the male stops incubating the eggs shortly before they hatch. Newly hatched chicks are active and can leave the nest within a few days. They stand about 25 centimetres tall and have distinctive brown and cream stripes for camouflage, which fade after three months or so. The male stays with the growing chicks for up to 18 months, defending them and teaching them how to find food. Chicks grow very quickly and are full-grown in 12 to 14 months; they may remain with their family group for another six months or so before they split up to breed in their second season. In the wild, emus live for about 10 years, and captive birds for more than twice that period.


Three Times the Emu: Three different emu species were common in Australian before European settlement. The small emus—Dromaius baudinianus and D. ater—both became extinct shortly after; however, the Emu, D. novaehollandiae, is common. The population varies from decade to decade, largely at the behest of rainfall; it is estimated that the Emu population is 625,000–725,000, with 100,000–200,000 in Western Australia and the majority of remaining populations in New South Wales and Queensland. D. novaehollandiae diemenensis a subspecies known as the Tasmanian Emu became extinct around 1865. Emus were introduced in Maria and Kangaroo Islands near Tasmania in the 20th century and have established breeding populations there.
There are three extant subspecies in Australia:
D. novaehollandiae novaehollandiae—south-east Australia: white ruff when breeding.

D. novaehollandiae woodwardi—northern Australia: thin, paler.
D. novaehollandiae rothschildi—south-west Australia: dark, no ruff when breeding.
First Contact: The species was first described under the name of the New Holland Cassowary in Arthur Phillip's Voyage to Botany Bay, published in 1789.The species was named by ornithologist John Latham, who collaborated on Phillp's book and provided the first descriptions of and names for many Australian bird species, its name is Latin for "fast-footed New Hollander." The etymology of the common name Emu is uncertain, but it thought to have come from an Arabic word for large bird, that was later used by Portuguese explorers to describe the related Cassowary in New Guinea.

All text is available under the terms of the GNU Free Documentation License