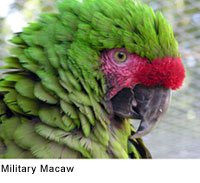 Beautiful and Functional:
Macaws have large, strong, curved beaks, which enable them to easily crush nuts and seeds. They use their agile toes (they have four, like woodpeckers) much like humans use their hands--to grasp and hold things.

Wonder-wings:
Built to fly through the dense trees of the rainforest, Macaws have stream-lined bodies, and wings that don't flap deeply, reducing the amount of space required to fly.

Rainforest Coats: Their famously bright plumage actually blends in well with the bright leaves, fruits, and blue shadows of the tropical rain forest.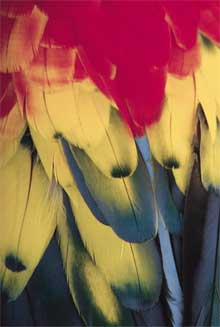 Native Lands: Their native habitats are the forests, especially rain forests, of Mexico and Central and South America.

The Mind of the Macaw: Macaws are incredibly intelligent birds and their curious minds seek to explore and play, and even use tools! Because they must watch out for predators in the wild, they are usually very aware of their surroundings. These social birds spend much of their lives interacting with their mates and families, and develop strong ties to one another.
Macaws in Danger: The majority of macaws are now endangered in the wild. Five species are already extinct, and Spix's Macaw is now considered to be extinct in the wild, though some continue to live in captivity. The Glaucous Macaw is also probably extinct, with only two reliable records of sightings in the 20th century. The greatest problems threatening the macaw population are the rapid rate of deforestation and the illegal trapping of birds for the
bird trade.

-----------------------------------------------------------------------------------------------------------------------------

The Hyacinth Macaw: The Hyacinth Macaw (Anodorhynchus hyacinthinus) is the largest macaw and the largest flying parrot species in the world (however, the flightless Kakapo of New Zealand can weigh up to 3.5kg making it the heaviest). Their unique size, color, and markings make the Hyacinth Macaw one of the most recognized species of macaw. Their popularity as pets has taken a heavy toll on their population in the wild.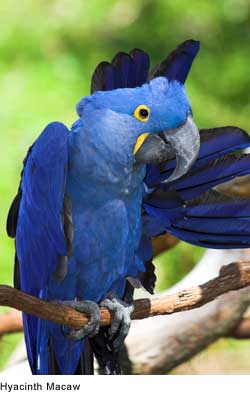 Record-breaking Beak: Hyacinth Macaws can exert enough beak pressure to easily disassemble the bars of a welded wrought iron cage in a short time. This powerful beak is ideal for its favorite foods, which include hard nuts and seeds that would otherwise be inaccessible. Their strong beaks are even able to crack coconuts.
In addition, they eat fruits and other vegetable matter. There are
eight species of palm that are central
to their diet. They are generally messy eaters.
It's Not Easy Being Blue:
The Hyacinth Macaw has a solid blue body of feathers, similar to the color of indigo. It has a solid black beak with bright yellow along the sides of the lower part of the beak and circling its solid dark eyes.
Unlike other macaws, it does not have a white patch of featherless skin around the eye. The female and male are nearly indistinguishable, although the female is typically a bit more slender.
Nest and Nestlings: These birds nest in preexisting holes in trees. The clutch size is two or three eggs, although usually only one fledgling survives if food is not plentiful. Juveniles stay with their parents until they are six months old. They are mature and begin breeding at seven years.
Range and Habitat: The Hyacinth Macaw survives today in three known distinct populations in South America: southern Brazil, eastern Bolivia and northeastern Paraguay. It is possible that smaller, fragmented populations occur in other areas of its range. Its habitat includes riverside tropical rain forests and palm swamps.
A Warning to Potential Macaw Owners: Bird experts often advise those interested in obtaining a macaw as a pet to educate themselves extensively about these birds prior to obtaining one, as these animals require more attention than a dog or cat and they are not considered domesticated animals by the official definition. Also, one should consider the bird's endangered status before choosing to own one, as international trade in these birds is illegal; in the U.S. trade of domestic Hyacinth Macaws is generally legal with restrictions varying by locality.
Hyacinth Macaw in Danger: The Hyacinth Macaw is considered an endangered species due to over collection for the cage bird trade and by the use of their feathers by the Kayapo Indians of Gorotire in southern Brazil. These Indians use the feathers to make headdresses and other baubles for the tourist trade. Also, alike many other animals, their habitat is being reduced by development. Annual grass fires set by gauchos can destroy nest trees.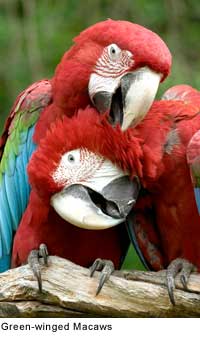 Macaws as Pets: Macaws eat nuts and fruit. They also gnaw and chew on various objects. They show a large amount of intelligence in their behavior and require constant intellectual stimulation to satisfy their innate curiosity.
A Life-long Friend: Macaws have been said to live for up to 100 years; however, an average of 50 years is probably more accurate. The larger macaws may live up to 65 years.
The decision to have a macaw as a pet should be seen as a life-long commitment, as it will likely be a companion for life and many even outlive its human keeper. They are monogamous and mate for life. In captivity unmated macaws will bond primarily with one person – their keeper. Pet macaws thrive on frequent interaction, handling and love just as humans do. Lack of this can lead to their mental and physical suffering.
The Kindness of Strangers: Other sub-bondings also take place and most macaws that are subjected to non-aggressive behavior will trust most humans and can be handled even by strangers if someone familiar is also alongside.
Delicate and Dangerous: Without proper adult supervision, macaws are unsuitable as pets for children. All species of macaws have very powerful, large beaks and are capable of causing considerable harm to both children and adults. They are delicate creatures and require respectful and loving husbandry from handlers. Macaws tend to be extremely loud: their voices are designed to carry over long distances. This makes macaws very demanding birds to keep and the decision to have one as a household pet should not be taken lightly.

Anodorhynchus

Anodorhynchus glaucus : Glaucous Macaw
Anodorhynchus hyacinthinus : Hyacinth Macaw
Anodorhynchus leari : Indigo Macaw or Lear's Macaw

Cyanopsitta

Cyanopsitta spixii : Little Blue Macaw or Spix's Macaw

Ara

Ara ararauna : Blue-and-yellow Macaw
Ara glaucogularis : Blue-throated Macaw
Ara militaris : Military Macaw
Ara ambiguus : Buffon's Macaw or Great Green Macaw
Ara macao : Scarlet Macaw or Aracanga
Ara chloroptera : Greenwing Macaw or Red-and-green Macaw
Ara rubrogenys : Red-fronted Macaw
Ara severa : Chestnut-fronted Macaw or Severe Macaw
Ara atwoodi : Dominican Green-and-Yellow Macaw
Ara erythrocephala : Jamaican Green-and-Yellow Macaw
Ara gossei : Jamaican Red Macaw
Ara guadeloupensis : Lesser Antillean Macaw
Ara tricolor : Cuban Red Macaw
Ara autocthones : Saint Croix Macaw

Orthopsittaca

Orthopsittaca manilata : Red-bellied Macaw

Propyrrhura

Propyrrhura couloni : Blue-headed Macaw
Propyrrhura maracana : Illiger's Macaw or Blue-winged Macaw
Propyrrhura auricollis : Golden-collared Macaw

Diopsittaca

Diopsittaca nobilis : Red-shouldered Macaw or Hahn's Macaw
All text is available under the terms of the GNU Free Documentation License