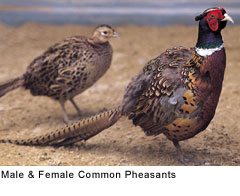 Common Pheasant Features: The adult pheasant is 50-90 cm in length with a long tail, often accounting for half the total length. The male (or cock) has barred bright brown plumage and green, purple and white markings, often including a white ring around the neck, and the head is green with distinctive red patches. This bird is also called the English Pheasant, or just Pheasant.
Beautiful Birds: Many birds in the pheasant family are blessed with beautiful, ornate plumage. For example, the famously showy peacock is in the
pheasant family.


Feet on the Ground: While pheasants are able short-distance fliers, they prefer to run: but if startled they can suddenly burst upwards at great speed, with a distinctive "whirring" wing sound. Their flight speed is only 27 to 38 mph when cruising but when chased they can fly up to 60 mph.
Play Birds: The males are polygamous, mating with more than one female; they are often accompanied by a harem of several females.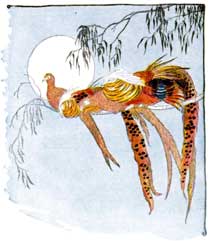 Bred for Sport and Food: They are native
to Asia but have been widely introduced elsewhere, where they are bred to be hunted and are shot in great numbers. The doggerel "up flies a guinea, bang goes sixpence and down comes half-a-crown" reflects that they are often shot for sport rather than as food.
If eaten, the meat is somewhat tough and dry, so the carcasses were often hung for a time to improve the meat by slight decomposition, as with most other game. Modern cookery generally uses moist roasting or farm-raised female birds.
Pheasant Farming: Pheasant farming is a common practice, and is sometimes done intensively. Birds are supplied both to hunting preserves/estates and restaurants, with smaller numbers being available for home cooks. Pheasant farms have some 10 million birds in the U.S. and 35 million in the United Kingdom. The Common Pheasant is also one of the prime target of small gamepoachers. The Roald Dahl novel "Danny the Champion of the World" dealt with a poacher (and his son) who lived in the United Kingdom and illegally hunted common pheasants.
Pheasant History: The bird was brought to Britain around the 10th century but became extinct in the early 17th century; it was reintroduced in the 1830s and is now widespread. Repeated reintroduction has made the pheasant a very variable species in regard to size and plumage. Pheasants have probably been present in North America from the 18th century but became common in the wild in the late 1800s. They are most common in the Great Plains, where they are often seen in hay, grass wheat, and CRP fields. A preferred nesting site for them is along fence rows, wheat, and under old machinery. Brought to the U.S. in the early 1920's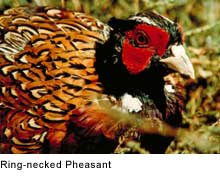 Species Information: There are 35 species of pheasant in 11 different genera.
The best-known is the Ringnecked Pheasant (Phasianus colchicus torquatus) which is widespread throughout the world in introduced feral populations and in farm operations. Various other pheasant species are popular in aviaries, such as the Golden Pheasant (Chrysolophus pictus).
All text is available under the terms of the GNU Free Documentation License