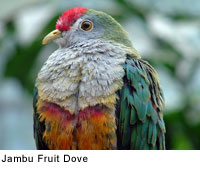 The species commonly referred to as the "pigeon" is the feral Rock Pigeon. Pigeons and doves are stout-bodied birds with short necks and short, slender bills with a fleshy cere.
This family occurs worldwide, but the greatest variety is in the Indomalaya and Australasia ecozones. It is related to the extinct dodos. The young doves and pigeons are called "squabs." A person who keeps pigeons is called a "pigeon fancier."


Their usually flimsy nests are made of sticks, and the two white eggs are incubated by both sexes. Doves feed on seeds, fruit and other soft plantstuff. Unlike most other birds, (but see flamingo), doves and pigeons produce "crop milk," which is secreted by sloughing off fluid-filled cells from the lining of the crop. Both sexes produce this highly nutritious substance to feed to the young.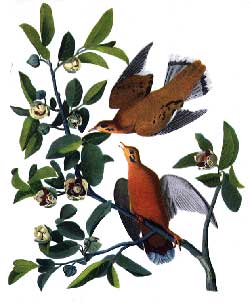 Symbolism: White doves, usually meaning domesticated Rock Pigeons, are a traditional Christian symbol of love and peace.
A dove was supposed to have been released by Noah after the flood in order to find land; it came back carrying an olive branch, telling Noah that, somewhere, there was land. A dove with an olive branch has since then come to symbolize peace.
In Christian iconography, a dove also symbolizes the Holy Spirit, in reference to Matthew 3:16 and Luke 3:22 where the Holy Spirit appeared as a dove at the Baptism of Jesus.
Doves or other birds are sometimes released at Christian weddings. It should be noted that these birds, unless they are trained homing pigeons, cannot survive in the wild and will either starve to death or be easy prey for predators.
Doves are often associated with the concept of peace and pacifism. They often appear in political cartoons, on banners and signs at events promoting peace (such as the Olympic games, at various anti-war/anti-violence protests, etc.), and in pacifist literature. A person who is a pacifist is sometimes referred to as a dove (similarly, in American politics, a person who advocates the use of military resources as opposed to diplomacy can be referred to as a hawk).
Ironically, although sometimes ungratefully considered "pests" in big cities, common pigeons or Rock Pigeons have served humans in times of war as war pigeons, and have even been awarded war medals to honour their services to humanity. These include the carrier pigeons, Cher Ami, who received the French Croix de guerre for services during wartime, and who is now enshrined in the Smithsonian Institution, and G.I. Joe, who received the Dickin Medal for his role in preventing the bombing of an Italian village of over 1,000 people.

Doves as food: Several species of pigeon or dove are used as food, and probably any could be; the powerful breast muscles characteristic of the family make excellent meat. In Europe the Wood Pigeon is commonly shot as a game bird, while Rock Pigeons were originally domesticated as a food species, and many breeds were developed for their meat-bearing qualities. The extinction of the Passenger Pigeon was at least partly due to shooting for use as food.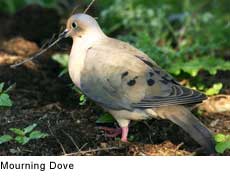 Trivia
* Doves can be trained and often are utilized in tricks and animal acts by magicians and showmen.
* In the United States, "dove" is sometimes used as a street name for cocaine. Ecstasy pills are also sometimes referred to as "doves", due to a well-known "brand" of pills featuring
an embossed dove.
* Dove is a brand of American ice cream; their "Dove Bar", featuring a vanilla ice cream filling with a thin chocolate coating, is particularly well known.
* A "pigeon" is an English slang word to refer to an uneducated, naive, or unsophisticated person: one that is easily deceived or cheated by underhanded means. To be referred to as a "pigeon" or a "dupe" suggests unwariness in the person deluded — especially used in the slang language of gambling. Etymology: from Middle French duppe.
All text is available under the terms of the GNU Free Documentation License