The Rhea, also known as ñandú in Spanish, or ema in Portuguese, is a large flightless bird native to South America. The name was given in 1752 by Paul Mohring; his reason for choosing this name, from the Rhea of classical mythology, is not known. Rheas are omnivorous, preferring broad-leafed plants, but also eating seeds, roots, fruit, insects, and small vertebrates.


Big Bird: Rhea americana (also called the Gray or Common Rhea) is not only the largest species of rhea but the largest American bird, at 30 kilograms (66 lb).

Look at that Rhea Run: Rhea pennata (Darwin's Rhea, synonyms R. darwini, R. macrorhyncha, Pterocnemia pennata) is 90 to 100 centimeters (3 ft to 3 ft 4 in) tall, and has larger wings than other ratites, enabling it to run particularly well.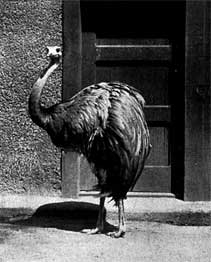 Unhealthy Appetite: Farmers sometimes consider rheas to be pests, because they will eat almost any crop plant. Because of this habit, farmers sometimes kill the birds.
This, along with egg gathering and habitat loss, has led to a sharp population decline; the species is listed as being of "special concern."

They do not eat most crop plants, but they will eat brassicas (cabbage, and baby chard and bok choi) if very hungry soybean leaves. Rheas disdain grasses.
Habitat: American Rheas live in grassland, savanna, scrub forest, chaparral, and even desert, but prefer areas with at least some tall vegetation. During breeding season (which ranges from August to January in South America, April to August in North America), they stay near water.
One Healthy Bird: Rheas have an incredible immune system that allows injured birds to heal rapidly with little intervention. This is reflected in the commercial uses of the animal. The fat of the birds is used as an anti-inflammatory salve. Use of the meat as an energy supplement is patented in the U.S. and Canada by an American woman who has spent 12 years working to reduce chick mortality and provide a commercial basis for the species, trying to ensure its long-term survival.
Rheas in Danger: The American Rhea is a threatened species as listed in CITES.


Play Birds: Rheas are polygamous, with males courting between two and twelve females. After mating, the male builds a nest, in which each female lays her eggs.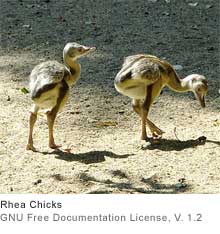 Mr. Mom: The male incubates from ten to sixty eggs; the chicks hatch within 36 hours of each other. The females, meanwhile, may move on and mate with other males. While caring for the young, the males will charge at anyone — including humans and female rheas — who approaches the chicks.

Overprotective: Male rheas are very territorial during breeding season. The infant chicks are highly intolerant of toxins, having high mortality in typical farming situations. Baby chicks under optimum conditions will grow to four feet tall by
their fifth month.


The Name Rhea in Mythology: In Homer, Rhea is the mother of the gods, though not a universal mother like Cybele, the Phrygian Great Mother, with whom she was later identified. The original seat of her worship was in Crete. There, according to myth, she saved the new-born Zeus, her sixth child, from being devoured by Kronos, by substituting a stone for the infant god and entrusting him to the care of her attendants the Curetes.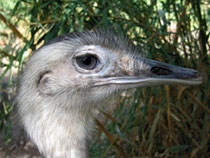 These attendants afterwards became the bodyguard of Zeus and the priests of Rhea, and performed ceremonies in her honour. In historic times, the resemblances between Rhea and the Asiatic Great Mother, Phrygian Cybele, were so noticeable that the Greeks accounted for them by regarding the latter as only their own Rhea, who had deserted her original home in Crete and fled to the mountain wilds of Asia Minor to escape the persecution of Kronos (Strabo. 469, 12). The reverse view was also held (Virgil, Aeneid iii), and it is probably true that cultural contacts with the mainland brought to Crete the worship of the Asiatic Great Mother, who became the Cretan Rhea.
In Greek mythology, Rhea's symbol is the moon. However, in Roman mythology, her symbol is known as the lunar (which would seem to mean "Moon"). She has another symbol, the swan, because it is a gentle animal. Also, her other symbol is two lions, supposedly the ones that pull her chariot.


All text is available under the terms of the GNU Free Documentation License