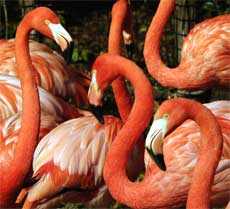 Pink Flamingos: Young flamingos hatch with white plumage, but the feathers of an adult range from light pink to bright red, due to carotenoids obtained from their food supply. A flamingo that is well fed and healthy is vibrantly colored bright pink or red. The pinker a flamingo is, the more desirable it is as a mate. A white or pale flamingo, however, is usually unhealthy or suffering from a lack of food.

Notable exceptions are the flamingos in captivity, many of which turned a pale pink as they are not fed foods containing sufficient amounts of carotene. This is changing as more zoos begin to add shrimp and other supplements to the diets of their flamingos. All flamingos have 12 black flight feathers in each wing.


Filter Feeders: Flamingos filter-feed on shellfish and algae. Their oddly-shaped beaks are specially adapted to separate mud and silt from the food they consume, and are uniquely used upside-down. The filtering of food items is assisted by hairy structures called lamellae which line the mandibles, and the large rough-surfaced tongue.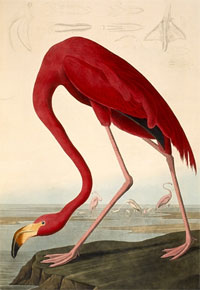 Balancing Act: Flamingos frequently stand on one leg, both when feeding and at rest. The reason for this behavior is not unknown. One common theory is that tucking one leg beneath the body may conserve body heat, but this has not been proven. There is evidence that flamingos favor one leg, much
as humans favor the right or left hand, and that the dominant leg is slightly larger and
more muscular.

Mud Mound: All flamingo species lay a single chalky-white egg on a mud mound each breeding season.
Crop Milk: Flamingos produce a "milk" like pigeon milk due to the action of a hormone called prolactin (see Columbidae). It contains more fat and less protein than the latter does, and it is produced in glands lining the whole of the upper digestive tract, not just the crop. Both parents nurse their chick, and young flamingos feed on this milk, which also contains red and white blood cells, for about two months until their bills are developed enough to filter feed.

Traditionally, the Ndebele people of South Africa and Zimbabwe keep captive flamingos for the purpose of harvesting this milk. This practice is rarely seen today.


Classification Confusion: The identity of the closest relatives of the flamingos has long been somewhat mysterious. Traditionally, the long-legged waders of the Ciconiiformes, a most likely paraphyletic assemblage, have been considered the flamingo's closest relatives and the family was included in the order.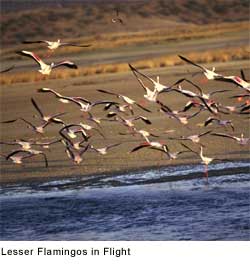 Usually the spoonbills and ibises of the Threskiornithidae were considered their closest relatives within this order. Nevertheless, relationships to the Anseriformes were considered
as well.
To reflect the uncertainty about this matter, flamingos began to be placed in their own order later on.

Some scientists proposed flamingos as waders most closely related to the stilts and avocets, Recurvirostridae.




Good Grebes: In recent years, DNA-studies have had unsuspected results: Sibley & Monroe placed flamingos within their huge Ciconiiformes. More recently, however, time and time again it has been the grebes Podicipedidae rather then long-legged waders, ducks or stilts that were indicated as the closest relatives of flamingos in DNA-studies. Whether the two families will be placed in a order together or retained as different orders is uncertain at the moment,however.
Clarity at Last? In a 2005 study that is likely to turn avian systematics upside down once again, the Neoaves, consisting of all living birds except the ratites, tinamous, waterfowl and Galliformes, were shown to be divided into two subgroups of uneven size. The first and smallest, Metaves contains flamingos and grebes,alongside the hoatzin, pigeons, sand grouse, the paraphyletic Caprimulgiformes, the Apodiformes, tropic birds, mesites, sunbittern and kagu. Interestingly, most of these groups have traditionally been difficult to place on the family tree of birds. According to this study, all other birds belong to the second subgroup of Neoaves, the Coronaves.

All text is available under the terms of the GNU Free Documentation License