Map Courtesy CIA World Factbook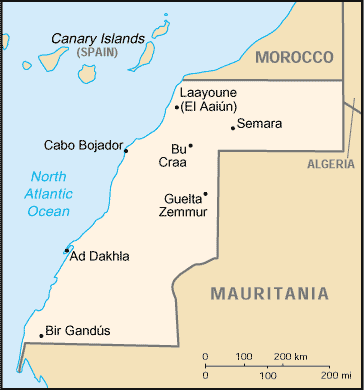 Western Sahara is a territory of northwestern Africa, bordering Morocco on the north, Algeria on the northeast, Mauritania to the east and south, and the Atlantic Ocean on the west. The largest city is El Aaiún (Laayoune), containing the majority of the population.
Morocco occupied the northern two-thirds of Western Sahara (formerly Spanish Sahara) in 1976, and the rest of the territory in 1979, following Mauritania's withdrawal. A guerrilla war carried by the Polisario Front contesting Rabat's sovereignty ended in a 1991 cease-fire; a referendum on final status has been repeatedly postponed. The 1991 peace accords included an agreement on the carrying out of a referendum among the indigenous population. The referendum was planned to give the population the option between independence or inclusion to Morocco. The referendum has, however, to this date not been carried out due to the conflict over who is entitled to vote.
Whether it is part of Morocco or is the Sahrawi Arab Democratic Republic (SADR), is disputed. At present it is largely occupied, and entirely claimed, by Morocco, but this claim is not recognized by any state, whereas the SADR is recognized by several dozen. Western Sahara is on the United Nations list of Non-Self-Governing Territories. In the peace plan a future Western Sahara Authority (WSA) is envisaged.
Western Sahara is one of the most sparsely populated territories in the world, with some rankings listing it as the least dense.