Tanzania





Map Courtesy CIA World Factbook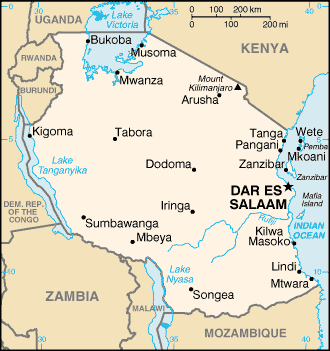 The United Republic of Tanzania (Jamhuri ya Muungano wa Tanzania in Swahili) is a country on the east coast of central Africa. It is bordered by Kenya and Uganda on the north, Rwanda, Burundi and the Democratic Republic of the Congo on the west, and Zambia, Malawi and Mozambique on the south. To the east it borders the Indian Ocean. The capital of Tanzania was officially moved from Dar es Salaam to Dodoma in 1996, although many government offices remain in Dar es Salaam.
A German colony from the 1880s until 1919, the area subsequently became a British trust territory from 1919 to 1961. Julius Nyerere became Minister of British-administered Tanganyika in 1960, and continued as Prime Minister when Tanganyika became independent in 1961. Tanganyika and the neighbouring Zanzibar — which had become independent in 1963 — merged to form the nation of Tanzania on 26 April 1964. Nyerere introduced a form of African socialism termed Ujama, which emphasized justice and equality, but proved economically disastrous, leading to food shortages as collective farms failed.
In 1979, Tanzania declared war on Uganda after Uganda invaded and tried to annex Tanzanian territory in the north of the country. Tanzania not only expelled Ugandan forces, but also invaded Uganda itself, forcing the ousting of Idi Amin.
Nyerere handed over power to Ali Hassan Mwinyi in 1985, but retained control of the ruling party as Chairman until 1990, when he handed that responsibility to Mwinyi. In October 1995, one-party rule came to an end when Tanzania held its first ever multi-party election. Benjamin Mkapa was subsequently sworn in as the new president of the United Republic of Tanzania on 23 November 1995. In January 2001, at least 27 people were killed when police opened fire on peaceful protests against elections they considered unfair.
In 2004, the undersea earthquake on the other side of the Indian ocean caused tidal surges along Tanzania's coastline in which 11 people were killed. An oil tanker also temporarily ran aground in the Dar es Salaam harbour, damaging an oil pipeline.