South Africa

Map Courtesy CIA World Factbook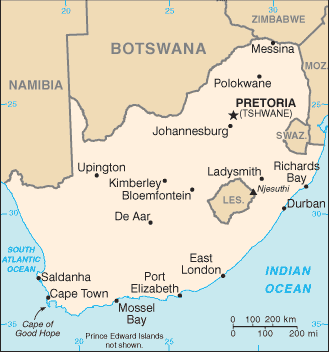 The Republic of South Africa is a country located at the southern tip of the African continent. It borders the countries of Namibia, Botswana, Zimbabwe, Mozambique and Swaziland. Lesotho is an independent nation, entirely surrounded by South African territory.
South Africa has the largest population of people of European descent in Africa, the largest Indian population outside of Asia, as well as the largest Coloured (of mixed European and African descent) community in Africa, making it one of the most ethnically diverse countries on the continent. Racial and ethnic strife between the black majority and the white minority have played a large part in the country's history and politics. The National Party began introducing the policy of apartheid after winning the general election of 1948; however, it was the same party under the leadership of F.W. de Klerk who started to dismantle it in 1990 after a long struggle by the black majority, as well as many white, coloured and Indian South Africans.
The country is one of the few in Africa never to have had a coup d'état, and regular free and fair
elections have been held since 1994, making it a regional power and among the most stable and liberal democracies in Africa. The economy of South Africa is the largest and most well-developed of the entire African continent, with modern infrastructure common throughout the country.
South Africa has 11 official languages: Afrikaans, English, Zulu, Xhosa, Swati, Ndebele, Southern Sotho, Northern Sotho, Tsonga, Tswana, and Venda. In this regard it is second only to India in number. As a result, there are many official names for the country.
The country also recognises eight non-official languages: Fanagalo, Lobedu, Northern Ndebele, Phuthi, South African Sign Language, Khoe, Nama and San. These non-official languages may be used in certain official uses in limited areas where it has been determined that these languages are prevalent. Nevertheless, their populations are not as such that they require nationwide recognition.
Many of the "unofficial languages" of the San and Khoikhoi people contain regional dialects stretching northward into Namibia and Botswana, and elsewhere. These people, who are a physically distinct population from other Africans, have their own cultural identity based on their hunter-gatherer societies. They have been marginalized to a great extent, and many of their languages are in danger of becoming extinct.
Many white South Africans also speak other European languages, such as Portuguese, German, and Greek, while many Asians and Indians in South Africa speak languages such as Gujarati and Telugu.
There are 11 official names for South Africa, one for each of the official national languages. While each language is technically equal to every other, English has emerged recently as the chief-among-peers as it is the most widely spoken language across racial barriers, even though it is not the most widely spoken language by population. Afrikaans has been downgraded in order to accommodate other official languages. The South African passport currently has only French and English on the front cover and lists the other official names of South Africa on an inner page.
Many of the minority groups in South Africa feel that their languages, despite having official status, are being sidelined in favour of English. The reigning trend in all areas of public services, including educational institutions, seems to predict that the South African Government will continue to promote English as the preferred dominant language.