Sierra Leone
Map Courtesy CIA World Factbook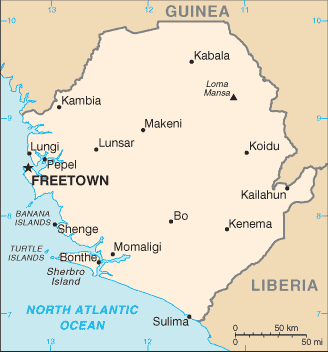 The Republic of Sierra Leone is a country in West Africa, on the coast of the Atlantic Ocean. The country is bordered by Guinea in the north and Liberia in the southeast.
The written history of Sierra Leone begins in 1462, when Portuguese explorers first landed and named the country "Lion Mountains". Europeans used the land as a source for slaves, but in 1787 Freetown was established as a city for former slaves living in London.
In 1808, Sierra Leone became a British Crown Colony, which it remained until halfway through the 20th century, when the process of de-colonisation was commenced. This culminated in independence on April 27, 1961. Sir Milton Margai (1895-1964) was its first prime minister.
The republic—briefly a one-party state in the early 1980s—became involved in a civil war in 1991, with the Revolutionary United Front (RUF) of Foday Sankoh rebelling against the government. This resulted in tens of thousands of deaths and the displacement of more than 2 million people (well over one-third of the population) many of whom are now refugees in neighboring countries. A military coup on May 25, 1997 replaced then President Ahmad Tejan Kabbah with Major Johnny Paul Koromah. Kabbah was reinstated in March 1998, after the junta was ousted by the Nigerian-led ECOMOG forces.
A peace agreement, signed on July 7, 1999 in Lomé, Togo offered a slight hope that the country will be able to terminate the diamond-powered conflict, and rebuild its devastated economy and infrastructure. As of late 1999, up to 6,000 UNAMSIL peacekeepers were in the process of deploying to bolster the peace accord.
In May 2000, the situation in the country deteriorated to such an extent that British troops were deployed in Operation Palliser to evacuate foreign nationals. They stabilised the situation, and were the catalyst for a ceasefire and ending of the civil war.