Namibia
Map Courtesy CIA World Factbook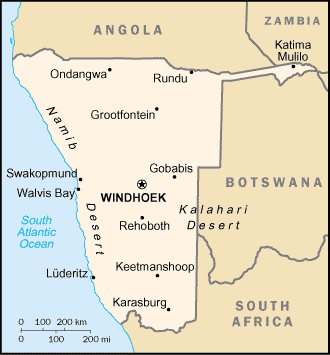 The Republic of Namibia is a country in southwestern Africa, on the Atlantic coast. It is bordered by Angola and Zambia to the north, Botswana to the east, and South Africa to the south. It gained independence from South Africa in 1990, and as such it is one of the youngest nations in the world. Its capital is Windhoek.
The dry lands of Namibia, inhabited since the early times by San, Damara, Nama and since about the 14th century A.D. also by immigrating Bantu, who came with the Bantu expansion, were not extensively explored by Europeans until the 19th century, when the land came under German control as South-West Africa, with the exception of Walvis Bay, which was under British control. South Africa occupied the colony during World War I and administered it as a League of Nations mandate territory until after World War II when it unilaterally annexed the territory.
In 1966 the Marxist South-West Africa People's Organisation (SWAPO) guerrilla group launched a war of independence for the area that was soon named Namibia, but it was not until 1988 that South Africa agreed to end its administration in accordance with a United Nations peace plan for the entire region. Independence came in 1990, while Walvis Bay was ceded to Namibia in 1994.