Ghana

Map Courtesy CIA World Factbook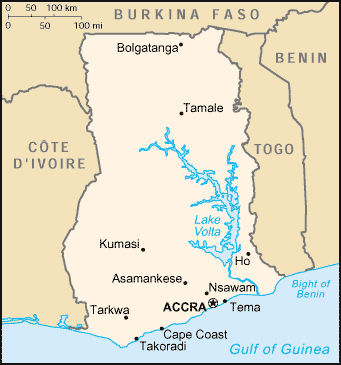 The Republic of Ghana is a country located in West Africa. It is bordered by Côte d'Ivoire (Ivory Coast) to the west, Burkina Faso to the north, Togo to the east, and the Gulf of Guinea to the south. The word Ghana means "Warrior King" and is derived from the ancient Ghana Empire. Its capital and largest city is Accra.

Formed from the merger of the British colony of the Gold Coast and the Togoland trust territory, Ghana in 1957 became the first country in colonial Africa to gain its independence. A long series of coups resulted in the suspension of the constitution in 1981 and the banning of political parties. A new constitution, restoring multiparty politics, was approved in 1992.

Ghana is an average natural resource enriched country possessing industrial minerals, hydrocarbons and precious metals. It is an emerging designated digital economy with mixed economy hybridisation and an emerging market with 8.7% GDP growth in 2012. It has an economic plan target known as the "Ghana Vision 2020". This plan envisions Ghana as the first African country to become a developed country between 2020 and 2029 and a newly industrialised country between 2030 and 2039.

Ghana has a great relationship with the United States, all of the last three U.S presidents- Bill Clinton, George W Bush, and Barack Obama- have made diplomatic trips to Ghana. Many Ghanaian diplomats and politicians hold positions in international organisations. These include Ghanaian diplomat and former Secretary-General of the United Nations Kofi Annan, International Criminal Court Judge Akua Kuenyehia, former President Jerry John Rawlings and former President John Agyekum Kuffour who have both served as diplomats of the United Nations