Uganda

Map Courtesy CIA World Factbook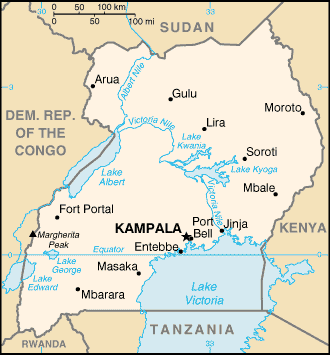 The Republic of Uganda, a country in east-central Africa, bordered in the east by Kenya, in the north by Sudan, by the Democratic Republic of Congo in the west, Rwanda in the southwest and Tanzania in the south. The southern part of the country includes a substantial portion of Lake Victoria, within which it shares borders with Kenya and Tanzania.
Uganda takes its name from the historical Buganda kingdom, which encompasses a portion of the south of the country, including the capital Kampala. Little is known about the history of the region now covered by Uganda until the arrival of the Arabs and Europeans in the mid 1800s. Humans are known to have lived in the area since at least the first millennium BC.
When Arabs and Europeans arrived in the 19th century, they encountered a number of kingdoms in the area. They included Ankole, Buganda, Bunyoro, Busoga, and Toro. The largest and most important of these kingdoms was Buganda, which exists as part of Uganda today. Islam and Christianity were introduced to these kingdoms.
The area was placed under the charter of the British East Africa Company in 1888, and was ruled as a protectorate by the United Kingdom from 1894. As several other territories and chiefdoms were integrated, the final protectorate called Uganda took shape in 1914. By 1966, the first Prime Minister, Milton Obote, had overthrown the constitution and declared himself president, ushering in an era of coups and counter-coups which would last until the mid-1980s. 1971 saw Idi Amin take power, ruling the country with the military for the coming decade.
His rule cost an estimated 300,000 Ugandans' lives, and he forcibly removed the entrepreneurial East Indian minority from Uganda, decimating the economy. His reign was ended by a Tanzanian invasion in November 1978 to April 1979. The situation improved little with the return of Milton Obote, who was deposed once more in 1985.
The current president, Yoweri Museveni, has been in power since 1986 and in generally viewed as being part of a new generation of African leaders. There is controversy, however, about the proposed change to the constitution that would allow him to run for a third term. Relative stability has been brought to the country with the exception of the North, which continues to struggle with a rebel insurgency. Uganda has demonstrated the most effective national response to HIV/AIDS of any African country.