If you're an American history buff, you'll love Virginia. Visit the site of the first permanent English settlement in America at Jamestown. According to Captain John Smith, the settlement's leader, Pocahontas saved his life when her father was going to execute him. See the birthplaces of George Washington and Thomas Jefferson. Visit the place where Lord Cornwallis surrendered to General Washington during the Revolutionary War at Yorktown, a Virginia village.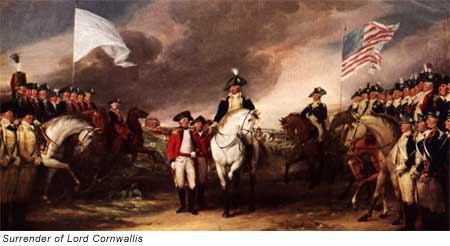 The famous slave revolt led by Nat Turner occurred in Virginia. See where many important civil war battles were fought; the state was a chief battleground of the war and home to Robert E. Lee. General Lee commanded the Confederate Army during the Civil War. Richmond, the state capital, was once the capital of the Confederate States of America. The Civil War ended when General Lee surrendered his sword to General Grant at Appomattox, a town in Virginia. L. Douglas Wilder became the first African American to be elected governor in the United States when he was elected governor of Virginia in 1989.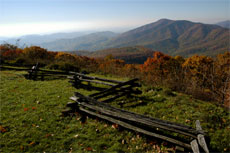 Because of its history, Virginia has several nicknames. The state was nicknamed "Old Dominion" because of its loyalty to King Charles II during the English Civil War. Virginia is also known as "Mother of States" because eight other states, including Illinois, Indiana, Kentucky, Michigan, Minnesota, Ohio, West Virginia, and Wisconsin, were partially or totally carved from its original land. Want to see the birthplaces of many presidents? Because eight presidents were born in the state, it has been called "Mother of Presidents." Virginia was named after Queen Elizabeth I, the "Virgin Queen," and is one of four states officially called a commonwealth. The abbreviation for Virginia is VA.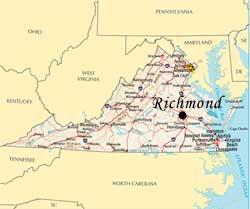 Virginia, the meeting place of the first representative law-making body in the New World, is a Mid-Atlantic state bordered by Maryland to the north, North Carolina to the south, and the Atlantic Ocean to the east. Its cities include Norfolk, Chesapeake, and Newport. CIA headquarters and the Pentagon are located in the northeastern part of the state near Washington D.C. The Pentagon, a five-sided building, is the headquarters for the United States Department of Defense.


You can tour many historical sites in Virginia. See what the country looked like during colonial times at Colonial Williamsburg.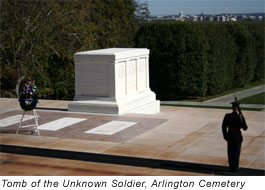 Beautiful Monticello, the home of Thomas Jefferson, and Mount Vernon, the home of George Washington, are also popular tourist attractions. Visit John F. Kennedy's grave and the Tomb of the Unknown Soldier at Arlington National Cemetery, located in Arlington. Visit Virginia's popular tourist attractions. Natural Bridge, Natural Tunnel, and Natural Chimneys are amazing creations of nature found in the state. Take in a beautiful ocean view at Virginia Beach, a popular resort and the state's biggest city. See the heart of the Blue Ridge Mountains at Shenandoah National Park.