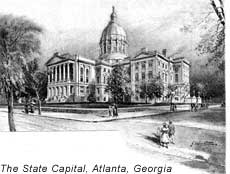 Georgia was the last of the 13 colonies to be founded and the first Southern state to ratify the Constitution. In 1851, Stephen Foster wrote, "Old Folks at Home," a song that made Georgia's Suwannee River famous. Joel Harris, an American author and journalist, first had his "Uncle Remus" stories published in Georgia, his home state. The state was a Confederate state during the Civil War and General Sherman destroyed much of Atlanta by setting it on fire.

Women have made great strides in Georgia during the 20th Century. Juliette Low started the Girl Scouts in Georgia in 1912. Georgia voters sent the first female United States Senator to Washington, D.C., in 1922. In the movie, "Gone With the Wind," Scarlett O'Hara fell in love with Rhett Butler in Georgia.

Georgia was named after King George II, an English King who granted the state its original charter. The "Peach State" and the "Goober State" are two of Georgia's best-known nicknames. The "Buzzard State" is another nickname because an early state law protected buzzards. The abbreviation for Georgia is GA.






Georgia, the largest state in land area east of the Mississippi River, is a South Atlantic state bordered by Florida to the south, the Atlantic Ocean and South Carolina to the east, North Carolina and Tennessee to the north, and Alabama to the west. The state has a varied landscape. There are mountains and ridges along its northern border and flat coastal plains in the south. The climate is generally mild and sunny.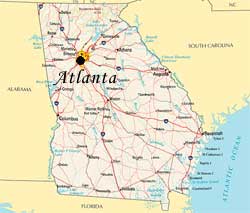 In the past, cotton was Georgia's most important source of income. However, Georgia has been called the "Empire State of the South" because of its size and impressive economic growth since that time. Today, the state's leading source of income is from service industries, like wholesale and retail trade. It is one of the chief manufacturing states of the South; production of textiles is its leading manufacturing activity.
Georgia's chief crops are corn, tobacco, pecans, peaches, and peanuts. In fact, the state leads the nation in the production of peanuts, which many Southerners call "goobers." Former President Jimmy Carter, who was born in the state, is probably Georgia's most famous peanut farmer.
Georgia is one of the country's chief producers of forest products because pine and hardwood forests cover much of the state. Georgia is also rich in marble. Marble from the state was used to build the Lincoln Memorial in Washington, D.C., and the capitols of many states.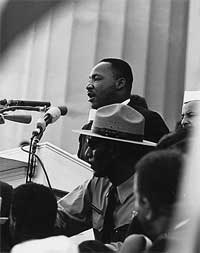 Atlanta, Georgia's capital and largest city, is the major financial and railroad center of the Southeast. One downtown area of the city is known as the "Wall Street of the South."
Atlanta also holds the Martin Luther King, Jr National Historic Site. Visitors can see the famous words, "Free at last, free at last, thank God Almighty, I'm free at last," engraved on his tombstone. Columbus, Macon, and Savannah are three other important cities in Georgia.