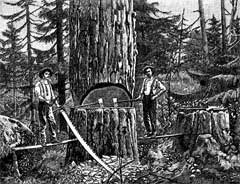 During the 1840s, the area that is now the state of Oregon was part of a region known as the Oregon Territory. The territory stretched from the Rocky Mountain continental divide to the Pacific Ocean and from California to Alaska. Oregon became the 33rd state in 1859 and the remainder of the Oregon Territory eventually became part of Idaho, Washington, western Montana, and the Canadian province of British Columbia.
Oregon is a state with an interesting history. Fur trappers opened the 2,000-mile Oregon Trail from Missouri to the Willamette Valley. The state is nicknamed the "Beaver State" because its output of beaver pelts was once so rich that they were used as money. The state's name may come from the French word "ouragan," meaning "storm" or "hurricane." The abbreviation for Oregon is OR.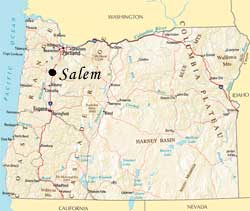 Oregon is a Pacific state bordered by Washington to the north, the Pacific Ocean to the west, California and Nevada to the south, and Idaho to the east. The Snake River separates the state from part of Idaho and the Columbia River forms most of the state's northern border. Oregon's landscape includes beautiful scenery, timberlands, mountains, seacoasts, lakes, rivers, and some of the most fertile soil in the country.

Because of its many wonders of nature, Oregon is often called the "Pacific Wonderland." The state's natural wonders include the Columbia River Gorge, Hells Canyon on the Snake River, Oregon Caves National Monument, and Crater Lake National Park in the Cascade Mountains. Crater Lake, known for its beautiful, deep blue color, is the deepest lake in the United States. While you're in Crater Lake National Park, visit the Phantom Ship made of lava. The state's highest point is Mount Hood, which is also in the Cascade Mountain Range.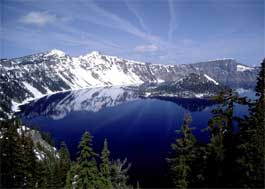 Over half of Oregon's land is covered with pine forests. The state leads the nation in lumbering. Oregon's most important industry is manufacturing because of the raw materials that come from its farms, mines, and fisheries. Bonneville and McNary dams on the Columbia River produce massive amounts of hydroelectric power for the state's factories.
Farm communities surround Salem, the state's capital. In addition, livestock, potatoes, sugar beets, and other vegetables are grown in eastern Oregon. Wheat is the state's most important food crop and is grown in the north-central region of the state. World famous fruits are grown in the Hood and Rogue river valleys. Salmon and tuna fishing as well as crabbing are important in Oregon.
Oregon's Willamette Valley is the most important trade and industry center in Oregon. Most of the state's large cities are located there, including Portland, the state's largest city and a major seaport. Flower bulbs, fruit, milk, seed crops, and vegetables are all produced in the valley.