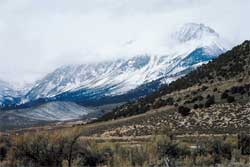 Nevada gets its name from the Sierra Nevada mountain range, which it shares with California. "Nevada" is a Spanish word, meaning "snow-covered." The state was given this name because of its high mountain ranges where there is sometimes snow all year-round. Because of the state's abundant growth of wild sage, the state is known as the "Sagebrush State." Nevada is also called the "Battle Born State" because it became a state in 1864, during the Civil War. The abbreviation for Nevada is NV.



Nevada is a Rocky Mountain state bordered by Oregon and Idaho to the north, Utah to the east, and California to the west and south. Located in the Great Basin Desert, it is the driest state, receiving less rainfall than any other state. Nevada has a varied landscape. It is one of the most mountainous states. The state has large desert areas, ranches, valleys with salt flats and sand dunes, streams, canyons, pine forests, and plateaus. The federal government owns over 80 percent of Nevada's land.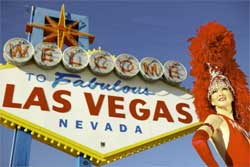 Nevada's population is growing faster than that of any other state. Between 1980 and 1990, the state's population increased by over 50 percent. However, because it has a large area and a comparatively low population, Nevada is one of the most sparsely populated states. The state's population is centered around Las Vegas, Nevada's largest city, which is located in the southeast, and Reno, which is located in the west.
Mineral production is one of Nevada's important industries. The discovery of the state's silver-rich Comstock Lode at Virginia City in 1858 spurred Nevada's first population growth. In fact, so much silver has been found in the state that it's called the "Silver State." More gold is mined in
Nevada than in any other state. Gold and silver United States coins that have "CC" on them were produced in the state between 1870 and 1893 at Carson City, Nevada's capital.
Agriculture is also important to Nevada. The state's irrigated land grows alfalfa, hay, potatoes, wheat, and barley. Hoover Dam, built on the Colorado River, created Lake Mead, one of the world's largest artificially created lakes.
The dam supplies power for Arizona, California, and Nevada. The state's land is also used for sheep and cattle ranching.


Tourism is Nevada's largest industry because of its scenery, climate, entertainment, gambling, and sports resorts. The state is known as the gambling capital of the United States because it is the only state that has laws permitting most forms of gambling throughout the state. A multibillion-dollar building boom has created casinos that are also family theme parks. Be careful if you go to Las Vegas in July or August because the average high temperature is over 100 degrees. You can also try fishing and swimming in Lake Tahoe, or explore Virginia City, Nevada's historic mining town.