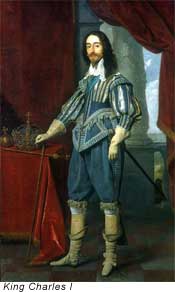 South Carolina was named after King Charles I and King Charles II of England. The name "Carolina" comes from the Latin word "Carolinus," meaning "of Charles." During colonial times, the state was part of a bigger area called Carolina. The site of the first permanent European settlement in the area was at Charles Town in 1670. Charles Town was renamed Charleston in 1783.

South Carolina was the site of many battles during the American Revolution and the Civil War. The state probably got its nickname, the "Palmetto State," during the Revolutionary War. Colonists at Fort Moultrie, a small fort built from the wood of palmetto trees, defeated a British fleet near Charleston in 1776. The British fleet was trying to capture Charleston Harbor. On December 20, 1860, South Carolina became the first state to secede from the Union. The first battle of the Civil War was fought at Fort Sumter.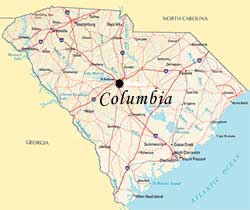 South Carolina is a South Atlantic state bordered by North Carolina to the north, the Atlantic Ocean to the east, and Georgia to the south and west. The abbreviation for South Carolina is SC. The state's landscape includes lowlands, sand hills, and mountains. Palmetto trees line South Carolina's coast. The eastern part of the state is known as the Low Country and the western region is called the Up Country.




Today, South Carolina is an industrial leader of the New South. Industry began developing in the state at the end of the 19th century and has continued through the 20th century. The development of industry has made South Carolina a prosperous state once again. The major industry in the state is textile manufacturing; only North Carolina and Georgia surpass South Carolina in textile production. The change in the state's economy has led to a change in where the state's residents live. In the past, most of South Carolina's residents lived in rural communities. Today, over half of the state's residents live in and around cities.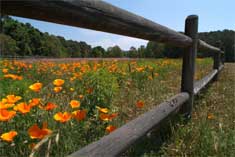 South Carolina was the leading state of the Old South. Before the Civil War, it was primarily an agricultural state with vast slave plantations. In fact, some of the state still looks like the Old South. See buildings that were built before the Civil War in Beaufort and Charleston. Visit Cypress Gardens or Middletown Place Gardens and see why South Carolina is known for its beautiful gardens. There are still large plantations in parts of the state. South Carolina's tobacco crop is one of the largest in the country.
Tourism is South Carolina's second most important industry. Two-thirds of tourists visit the state's coast. Resorts that are popular among tourists include Myrtle Beach, Charleston, and Hilton Head. Buy fresh fruits at the State Farmers Market in Columbia, South Carolina's largest city and capital.