Luxembourg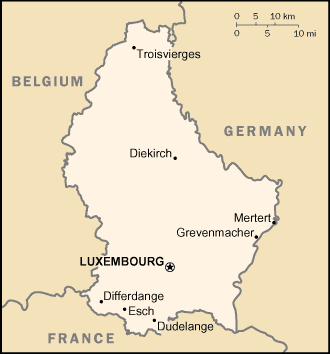 Map Courtesy CIA World Factbook
The Grand Duchy of Luxembourg is a small landlocked state in the north-west of the continental European Union, bordered by France, Germany and Belgium.
The recorded history of the Grand Duchy of Luxembourg begins with the construction of Luxembourg Castle in the 963. Around this fort a town gradually developed, which became the centre of a small but important state of great strategic value. In 1437 the ruling family became extinct. In the following centuries, Luxembourg's fortress was steadily enlarged and strengthened over the years by its successive occupants, among others the Bourbons, Habsburgs, Hohenzollerns and French. Even after the defeat of Napoleon in 1815, when the Congress of Vienna gave formal autonomy to Luxembourg, the country was disputed between Prussia and the Dutch kingdom.
Luxembourg declared independence in 1835. It was however not until 1867 that Luxembourgs independence was formally ratified. The country was attacked by Germany during World War I and World War II.
In 1945 after World War II Luxembourg abandoned its politics of neutrality, when it became a founding member of NATO (1949), the United Nations. In 1957, Luxembourg became one of the six founding countries of the European Economic Community (later the European Union) and in 1999 it joined the euro currency area. The present sovereign is Grand Duke Henri, the current Prime Minister Jean-Claude Juncker.