Andorra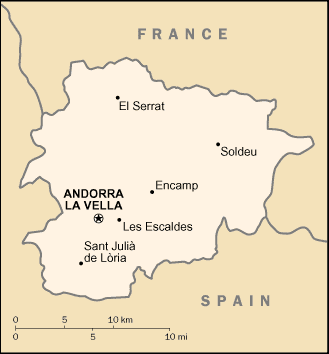 Map Courtesy CIA World Factbook
The Principality of Andorra (Catalan: Principat d'Andorra, French: Principauté d'Andorre) is a small, landlocked principality in southwestern Europe, located in the eastern Pyrenees mountains and bordered by France and Spain. Once isolated, it is currently a prosperous country mainly because of tourism and its status as a tax haven. Andorra is also part of the Catalan Countries and is one of the European microstates..
Tradition holds that Charlemagne granted a charter to the Andorran people in return for their fighting the Moors. Overlordship over the territory was passed to the
local count of Urgell and eventually to the bishop of the diocese of Urgell. In the 11th century a dispute arose between the bishop and his northern French neighbour over Andorra.
In 1278, the conflict was resolved by the signing of a parage, which provided that Andorra's sovereignty be shared between the French count of Foix (whose title would ultimately transfer to the French head of state) and the bishop of La Seu d'Urgell, in the Catalonia region of Spain. This gave the small principality its territory and political form.
Over the years the title passed to the kings of Navarre, and under the king of France Henry IV, an edict in 1607 established the head of the French state and the Bishop of Urgell as co-princes of Andorra.
In the period 1812–13, the French Empire annexed Catalonia and divided it in four departments. Andorra was also annexed and made part of the district of Puigcerdà (département of Sègre).
In 1933 France occupied Andorra as a result of social unrest before elections. From 1936 to 1940, there was a French detachment in Andorra to prevent influences of the Spanish Civil War and Franco's Spain.
In 1958, Andorra declared peace with Germany, having been forgotten on the Treaty of Versailles and remaining legally at war.
Given its relative isolation, Andorra has existed outside the mainstream of European history, with few ties to countries other than France and Spain. In recent times, however, its thriving tourist industry along with developments in transportation and communications have removed the country from its isolation and its political system was thoroughly modernized in 1993.