Cyprus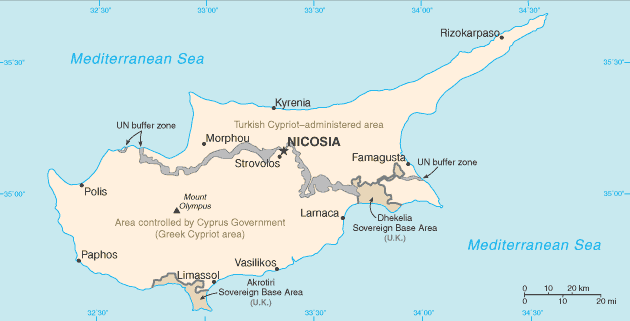 Map Courtesy CIA World Factbook
The Republic of Cyprus (Greek: Kypros; Turkish: Kıbrıs) is an island nation in the eastern Mediterranean Sea, 113 kilometres (70 miles) south of Turkey and around 120 km west of the Syrian coast.
The word for the metal "copper" in the English language (and many other languages) stems from the Latin phrase aes Cyprium , "metal of Cyprus", later shortened to cuprum, "copper". Large deposits of copper are found on the island.
Cyprus is geographically in Western Asia (or the Near East), though politically and culturally it is considered as being in Europe. Historically, Cyprus has always been a bridgehead between Europe and Asia, with interchanging periods of Levantine, Anatolian, and Greek influences.
Cyprus gained independence from the United Kingdom in 1960, with the UK, Greece and Turkey retaining limited rights to intervene in internal affairs.
The Republic of Cyprus is the internationally recognised government of the island, and it controls the southern two-thirds of the island. Almost all foreign governments and the United Nations recognise the sovereignty of the Republic of Cyprus over the whole island of Cyprus.
Turkish Cypriots, together with Turkey, do not accept the Republic's rule over the whole island and call it the "Greek Authority of Southern Cyprus". They control the northern third of the island, following a military invasion by Turkey in 1974. This happened following a coup sponsored by the military regime of Greece.
The Turkish Cypriot area proclaimed its independence in 1975, and the self-styled Turkish Republic of Northern Cyprus was established in 1983. This state was recognised only by Turkey. Furthermore, Organization of the Islamic Conference granted it observer member status under the name of "Turkish Cypriot State".
The other power with territory on Cyprus is the United Kingdom. Under the independence agreement, the UK retained title to two areas on the southern coast of the island, around Akrotiri and Dhekelia, known collectively as the UK sovereign base areas. They are used as military bases.