Lithuania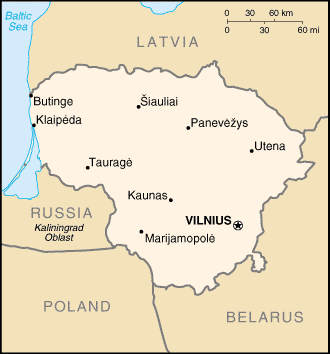 Map Courtesy CIA World Factbook
The Republic of Lithuania (Lithuanian: Lietuva) is a republic in Northeastern Europe. One of the three Baltic States along the Baltic Sea, it shares borders with fellow Baltic State Latvia to the north, Belarus to the southeast, Poland to the south, and the Kaliningrad Oblast of Russia to the southwest.
Vilnius is a capital of Lithuania since 1940 (as well as for centuries from 1323 to 1919). Between 1919 and 1940, its capital was at Kaunas, though until March 1938 Lithuanian authorities did not recognize Poland's control of Vilnius at the time and considered Kaunas a "temporary capital".
First mentioned in February 14, 1009, Lithuania grew to be a significant nation in the Middle Ages. The date of statehood is counted from the official crowning of Mindaugas as a King of Lithuania in July 6, 1253 in Voruta. Mindaugas managed to unite warring dukes into a single nation and state. Later, in course of Gediminas' conquers, Lithuania became a part of an independent multi-ethnic Grand Duchy of Lithuania, that also united lands of modern Belarus and Ukraine. Grand Duchy stretched across much of Eastern Europe from the Baltic Sea to the Black Sea in 15th century. Since February 2, 1386, when Grand Duke Jogaila was crowned the King of Poland, Grand Duchy was joint with Poland in a personal union under one monarch. In 1569 Poland and Grand Duchy formally merged into the new state of Polish-Lithuanian Commonwealth. This union remained in force until the May Constitution of 1791, which abolished all the subdivisions of the states and merged into Kingdom of Poland. However, the new state was annexed soon afterwards by Imperial Russia, Prussia and Austria in the effect of the Partitions of Poland of 1795.
Lithuania re-established its independence in severely limited territory on February 16th, 1918. It subsequently lost most of its previous grounds to Soviet Union and was plagued by territorial disputes with Poland (over Central Lithuania and Suvalkija/Suwałki) and Germany (over Klaipėda/Memel). It was annexed by the Soviet Union in 1940 during World War II in line with the secret clauses of the Molotov-Ribbentrop Pact signed in Moscow on August 23, 1939.
Communist rule ended after the advent of glasnost and Lithuania, lead with anti-communist and anti-soviet movement for independence Sajūdis, proclaimed its renewed independence on March 11, 1990. Lithuania was the first Soviet republic to do so, though Soviet forces unsuccessfully tried to suppress this until August 1991. The last Russian troops left on 31 August 1993 - even earlier than from East Germany.
On February 4, 1991 Iceland became the first country to recognise Lithuanian independence and Sweden first country to open its embassy in the country. The United States of America never recognized the U.S.S.R.'s claim on Lithuania.
Lithuania was admitted into the United Nations on September 17, 1991. On May 31, 2001, Lithuania became 141st member of the World Trade Organization. Lithuania has since 1988 sought closer ties with the West and so on January 4, 1994, it became the first of the Baltic States to apply for NATO membership. On November 21, 2002 Lithuania was invited to start membership negotiations with NATO and on March 29, 2004 it became a full and equal NATO member. On February 1, 1998 it became an Associate Member of the EU and on April 16, 2003 it signed the EU Accession Treaty. 91% of Lithuanians backed EU membership in a referendum held on May 11, 2003 and on May 1, 2004 Lithuania became a member of the European Union.