Austria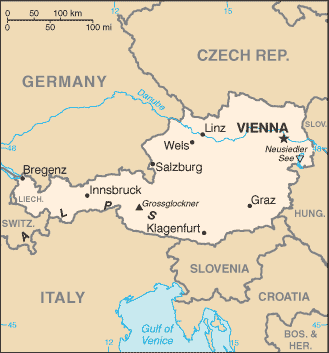 Map Courtesy CIA World Factbook
The Republic of Austria (German: Republik Österreich) is a landlocked country in the heart of Europe. It borders Germany and the Czech Republic to the north, Slovakia and Hungary to the east, Slovenia and Italy to the south, and Switzerland and Liechtenstein to the west. Austria is a parliamentary representative democracy consisting of nine federal states and is one of two European countries that have declared their everlasting neutrality. Austria is a member of UN and the European Union
The German name Österreich can be translated into English as the "eastern realm", which is derived from the Old German Ostarrîchi. The term probably originates in a vernacular translation of the Medieval Latin name for the region: Marchia orientalis, which translates as "eastern border," as it was situated at the eastern edge of the Holy Roman Empire, that was also mirrored in the name Ostmark applied after Anschluss to the Third Reich. Interestingly, the derivation of the Latin name from the original Old German gives rise to the use of "Aust-" for east, rather than south as in Classical Latin.
The territory of Austria was conquered by the Romans during the reign of Augustus and made a province of Rome in 16 BC. Later it was conquered by Huns, Lombards, Ostrogoths, Bavarii and Franks (in that order) until the core territory of Austria was awarded to Leopold of Babenberg in 976. Being part of the Holy Roman Empire the Babenbergs ruled and expanded Austria from the 10th to the 13th century. After Frederick II died in 1246 and left no successor, the German Emperor Rudolf I of Habsburg gave the lands to his sons marking the beginning of the line of the Habsburgs, who continued to govern Austria until the 20th century.
With the short exception of Charles VII Albert of Bavaria, Austrian Habsburgs held the position of German Emperor beginning in 1438 with Albert II of Habsburg until the end of the Holy Roman Empire. During the 14th and 15th century Austria continued to expand its territory until it reached the position of a European superpower at the end of the 15th century until the end of the Habsburg monarchy in 1918.
After the abolition of the Holy Roman Empire in 1806, the Empire of Austria was founded, which was transformed in 1867 into the double-monarchy Austria-Hungary. The empire was split into several independent states in 1918, after the defeat of the Central Powers in World War I, with most of the German-speaking parts becoming a republic. Between 1918 and 1919 it was officially known as the Republic of German Austria (Republik Deutschösterreich), and then the name was changed to simply Republic of Austria. The democratic republic lasted until 1933 when the chancellor Engelbert Dollfuß established an autocratic regime oriented towards Italian fascism.
Austria was annexed by Germany in 1938 (the Anschluß) amongst popular acclaim. After the defeat of the Axis Powers, the Allies occupied Austria at the end of World War II in Europe until 1955, when the country again became a fully independent republic under the condition that it remained neutral. In that year it also became a member of the UN. After the collapse of communism in Eastern Europe, Austria became increasingly involved in European affairs, and in 1995, Austria joined the European Union, and the Euro monetary system in 1999. Some Conservative politicians have suggested that Austria join NATO.