Italy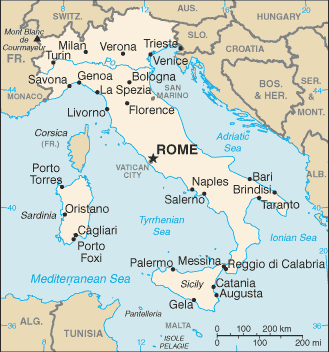 Map Courtesy CIA World Factbook
The Italian Republic or Italy (Italian: Repubblica Italiana or Italia) is a country in Southern Europe. It comprises a boot-shaped peninsula and two large islands in the Mediterranean Sea, Sicily and Sardinia, and shares its northern alpine boundary with France, Switzerland, Austria and Slovenia. It is a founding member of what is now the European Union, and a member state of the United Nations, NATO and the G8 nations. The independent countries of San Marino and the Vatican City are enclaves within Italian territory.
Italy has shaped the cultural and social development of the whole Mediterranean area, deeply influencing European culture as well. Important cultures and civilizations have existed there since prehistoric times. After Magna Graecia, the Etruscan civilization and especially the Roman Republic and Empire that dominated this part of the world for many centuries, Italy was central to European philosophy, science and art during the Middle Ages and the Renaissance.
Modern Italy became a nation-state belatedly — on March 17, 1861, when most of the states of the peninsula were united under king Victor Emmanuel II of the Savoy dynasty, which ruled over Piedmont. The architects of Italian unification were Count Camillo Benso di Cavour, the Chief Minister of Victor Emmanuel, and Giuseppe Garibaldi, a general and national hero. Rome itself remained for a decade under the Papacy, and became part of the Kingdom of Italy only on September 20, 1870, the final date of Italian unification. The Vatican is now an independent enclave surrounded by Italy, as is San Marino.
The Fascist dictatorship of Benito Mussolini that took over in 1922 with the March on Rome, led to the alliance with Nazi Germany and other Axis Powers and ultimately Italy's defeat in World War II. On June 2, 1946, a referendum on the monarchy resulted in the establishment of the Italian republic, which led to the adoption of a new constitution on January 1, 1948.
Italy was a charter member of NATO (April 4, 1949) and the European Union(1952/58) and on December 14, 1955 Italy joined the United Nations. Italy had joined the growing political and economic unification of Western Europe, including the introduction of the Euro in 1999, thus replacing the Italian Lira.