English Cocker Spaniel Appearance: The Cocker is a sturdy, compact, well-balanced dog. It has a characteristic expression showing intelligence and alertness. Its eyes should be dark and its lobular ears should reach the tip of the nose when pulled forward. The breed's slightly loose skin and feathered coat allow it to fight through any brush unharmed. The Cocker's tail is customarily docked in North America. The tail is generally docked at about 4 or 5 inches in field-bred dogs.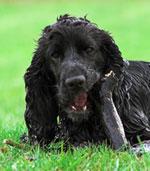 Height (at withers):
* Dogs: 15-17 inches (38–43 cm)
* Bitches: 15-16 inches (38–41 cm)
Weight:
* Dogs: 28–34 lb (13–15 kg)
* Bitches: 27–32 lb (12-15 kg)

Show dogs are restricted to certain colors dependent on country, whereas working Cockers can be any of a wide variety of colors They come in solid (or "self") colors, where white is restricted to only the chest in show dogs, parti-color, roan, and merle. Many hunters prefer to have some white in the coat to make the dog more visible
to gunners.
American Cocker Spaniel Appearance: American Cockers weigh 24 to 28 pounds (11 to 12.75 kg) and stand 15 inches (38 cm) maximum height. They come in three major color varieties: black, ASCOB (Any Solid Color Other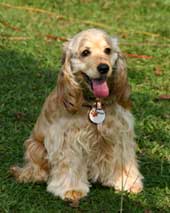 than Black) and parti-color The other solid colors are chocolate, red, buff, and sable. Parti-color dogs are all of the above colors and white. Black and tan, chocolate and tan, and tricolor (white, black and tan) are also common. Roan (black and white or red and white hairs intermingled) occurs rarely. Both black and brown sable colors with or without white or tan markings are recognized in Canada, but are disqualified in the United States.
The domed head, large dark expressive eyes, short deep muzzle, and abrupt stop are characteristic breed points. The coat is flowing, long, silky, and abundant. The long, luxuriantly feathered ears are a striking breed feature. Most Cockers bred for hunting tend to have shorter coats and longer muzzles than pet or show Cockers, as the extremely long coat of show type dogs is very unfeasible for working, as it will get caught in the bush.


English Cocker Spaniel Temperament: Cockers are renowned for their friendly, faithful, playful, and affectionate natures. They are easily trained and make a good medium-sized family pet. Very few Cockers have temperament problems; in a 2002 survey consisting of 487 cockers, only 1% of the dogs were aggressive to people and 2% were aggressive to other dogs.
American Cocker Spaniel Temperament: Their temperament is typically happy, trusting, and intelligent. The ideal Cocker temperament is merry, outgoing, and eager to please. They tend to be "softer" dogs who do not do well with rough or harsh training.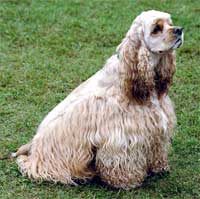 The popularity of the American Cocker Spaniel led to a considerable amount of irresponsible breeding in an attempt to keep up with the demand. The results have included fearful or aggressive behavior in some of the dogs, submissive urination, and resource guarding. Responsible breeders have worked diligently to eliminate these negative characteristics while trying to educate the public regarding responsible breeding. Temperament of the American Cocker Spaniel should always be the primary concern when breeding these dogs. As with all puppies, owners are advised to choose their breeder carefully.


English Cocker Spaniel Health: The Cocker is generally a healthy breed. Its main
health problems are progressive retinal atrophy, kidney disease, and hip dysplasia. They are also often prone to ear infections because of their pendulous ears. They
live for approximately 13 to 14 years on average.

American Cocker Spaniel Health:
Cocker Spaniels are susceptible to a variety of maladies, particularly infections affecting their ears and, in some cases, their eyes. As a result, they may require
more medical attention than some other breeds. Common eye problems in
Cockers include progressive retinal atrophy (PRA), glaucoma, and cataracts. The American Spaniel Club recommends annual eye exams by a veterinary ophthalmologist for all dogs used for breeding. Autoimmune problems in Cockers include autoimmune hemolytic anemia (AIHA) and ear inflammations. Less common are luxating patellas and hip dysplasia. Dogs used for breeding can be checked for both of these conditions, and dogs free of hip dysplasia can be certified by the Orthopedic Foundation for Animals (OFA).
English Cocker Spaniel History: Spaniel type dogs are have been found in art and literature for almost 500 years. Initially, spaniels in England were divided among land spaniels and water spaniels. The differentiation among the spaniels that led to the breeds that we see today did not begin until the mid 1800's.
During this time, the land spaniels became a bit more specialized and divisions among the types were made based upon weight. According to the 1840 Encyclopedia of Rural Sports, cockers were between 12 and 20 lb. At this time it was not uncommon for cockers and springers to come from the same litter. Even a puppy from a "Toy" sized lineage could grow to be a springer. There is no indication from these early sources that spaniels were used to retrieve game. Rather they were use to drive the game toward the guns.
During the 1850's and 60's other dogs types of cockers were recorded. There were Welsh Cockers and Devonshire Cockers. Additionally, small dogs from Sussex Spaniel litters were called cockers. In 1874 the first stud books were published by the newly formed kennel club. Any spaniel under 25 lb was placed in the cocker breeding pool, however the Welsh Cocker was reclassified as a springer in 1903 due to its larger size and shorter ear. "...in those days only those dogs up to a hard day's work and sensible specimens were allowed to live, as absolute sporting purposes were about their only enjoyment and dog shows were hardly heard of..."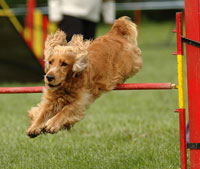 The hobby of dog showing began in earnest among spaniels after the Spaniel Club was formed in 1885. When showing, the new Springer and Cocker, both were in the same class until The Spaniel Club created breed standards for each of the types. The Kennel Club separated the two types eight years later. Since then, the Springer and Cocker enthusiasts have bred in the separate traits that they desired. Today, the breed differ in more ways than weight alone.
In America, the American Cocker type was forming. As a result, the English Cocker lost favor. The two Cocker Spaniels were shown together until 1936, when the English Cocker received status as a separate breed. The American Kennel Club granted a separate breed designation for the English Cocker Spaniel in 1946.
American Cocker Spaniel History: The name cocker comes from the fact that the breed originally hunted woodcock. In the United States the breed is registered under the name "Cocker Spaniel", as is the English Coc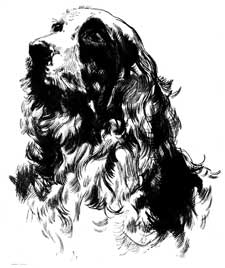 ker Spaniel in the UK, which can cause confusion between these two breeds. By the 1930s the American variety had become so different from its English ancestors that it was given separate breed status. Originally a gun dog, the Cocker now fulfills the position of family pet or show dog most often and unlike the English Cocker, is rarely seen hunting. Some American lines are still bred for fieldwork, and a small movement works to preserve the hunting abilities of the breed. He can be a faithful and responsible children's companion. Cockers have been a highly popular American breed since the 1940s, occupying the top position in number of American Kennel Club registrations from 1940-1952. The breed declined a bit in popularity and then resurged to number one in registrations from 1984-1990. Since then, the breed's popularity has declined. The Cocker Spaniel was 15th in AKC registrations for 2004, down from 14th in 2003.
English Cockers at Work: This breed, like many others with origins as working dogs, has some genetic lines that focus on working-dog skills and other lines that focus on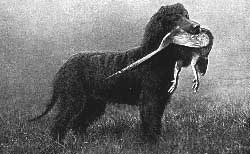 ensuring that the dog's appearance conforms to a breed standard; these are referred to as the "working" (or "field-bred") and "show" strains, respectively.
After World War II, the show-bred Cocker Spaniel increased enormously in popular appeal and, for a while, was the most numerous Kennel Club registered breed. This popularity increased the view that all Cockers were useless as working dogs. However, for many dogs this is untrue, as even some show-bred Cockers have retained their working instinct.
Today, this breed is experiencing a resurgence in usage as a working and hunting dog. Their happy and inquisitive personality makes them ideal assistance or detection dogs. Dogs from working lines are noticeably distinct in appearance. As is the case with the English Springer Spaniel, the working type has been bred exclusively to perform in the field as a hunting companion. Their coat is shorter and ears less pendulous than the show-bred type. Although registered as the same breed, the two strains have diverged significantly enough that they are rarely crossed. The dogs that have dominated the hunt test, field trial and hunting scene in the United States are Field-Bred dogs from recently imported British lines. (Thoms 2002).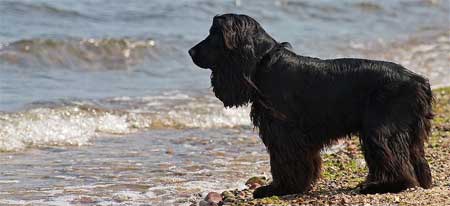 Working-dog lines often have physical characteristics that would prevent them from winning in the show ring, such as heads that are more domed than desired or other traits. This is a result of selecting for different traits than those selected by show breeders. The longer coat and ears, selected for the show ring, are an impediment in the field.
All text is available under the terms of the GNU Free Documentation License