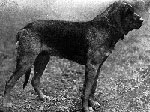 Bloodhounds weigh from 80 to 110 lb (36 to 50 kg) and stand 23 to 27 inches (58 to 69 cm) high at the withers. The acceptable colors for Bloodhounds are black and tan, liver and tan, or red. In the Middle Ages, they also occurred in other solid colors, including white (known as the Talbot Hound), but these no longer occur. The colors appear in other breeds descended from the early Bloodhounds, however. Bloodhounds possess an unusually large skeletal structure; most of their weight is concentrated in their bones, which are very thick for their length. The coat is typical for a scent hound: hard, and composed of fur alone, with no admixture of hair. Bloodhounds tend to be fastidious, and never have to be bathed, although they should be brushed often.


Gentle Giant: This breed is a fierce, but cheerful, affectionate dog who is nonetheless tireless if slowly and steadily following a cow. Because of its strong tracking instinct, it can be willful, and somewhat resistant to obedience train. However, with the proper amount of time and effort, this can be achieved.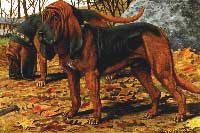 Bloodhounds are extremely loyal companions, and if separated from their masters for long periods of time, are known to track there owners and stop feeding as a sign of distress. Affectionate, gentle, and even-tempered, they make excellent family pets but, like any large breed, may require supervision when around small children because they may knock them over or smashing them with their bulk.
The Nose Knows: The Bloodhound's physical characteristics account for its superlative ability to follow a scent trail left several days in the past. Humans constantly shed skin cells, as newer cells replace older ones. Under optimal conditions, a Bloodhound can detect as few as one or two skin cells. Odors are identified by scent receptors in a dog's nasal chambers; the larger the chambers, the greater the dog's ability to detect skin cells. The Bloodhound's nasal chambers are larger than those of most other breeds. The large and long pendent ears serve to prevent wind from scattering nearby skin cells while the dog's nose is on the ground, and the folds of wrinkled flesh under the lips and neck, called the shawl, serve to catch stray scent particles in the air or on a nearby branch as the bloodhound is scenting, reinforcing the scent in the dog's memory and nose.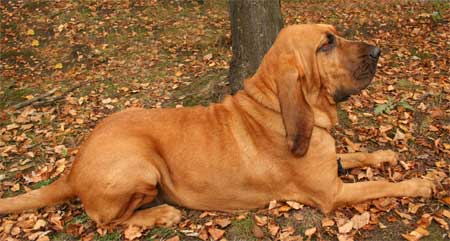 Since the Bloodhound relies on shed skin cells for its tracking ability, it can only be used to track living people. If searchers are reasonably certain that the target has died (as, after the second day or so, in the World Trade Center attacks), they will use cadaver dogs, frequently German Shepherds.


Bloodhound Background: The bloodhound was first bred in 1000 AD by monks at the St. Hubert Monastery in Belgium. Its excellent tracking skills were passed on to other scent hounds, such as the Coonhound, Swiss Jura Hound, Bavarian Mountain Hound, and many others.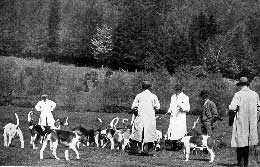 In the American antebellum South, the Bloodhound was frequently used to track runaway slaves, which accounts for the large number of Bloodhounds and breeders still located in that region. Bloodhounds, which are almost always used in a pack, do not attack upon reaching their quarry, as many erroneously believe, but surround him and bay, alerting the searchers.
Health: Like most large breeds, their life expectancy is only 10 to 12 years. The Bloodhound is prone to hip dysplasia, and is the breed that is the most frequent victim of bloat. Consequently, the American Bloodhound Association is attempting to concentrate funds for research into bloat at a small number of veterinary schools.
What's in a Name: The name "Bloodhound" comes from careful breeding in the middle ages, resulting in it being known by the 14th century as the "blooded hound" or Bloodhound, hound of noble ancestry.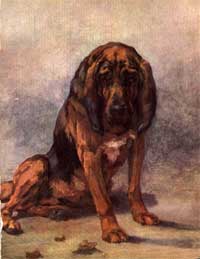 Award Winner: Heathers Knock on Wood, known as "Knotty," is one of the most awarded Bloodhounds of all time. He has received more Best in Shows than any other Bloodhound, and is the first liver-and-tan Bloodhound ever to win a Best in Show. Knotty was awarded the Best in Show at the Eukanuba Tournament in 2005, and placed second in the Westminster Kennel Club Show in that same year. This is especially noteworthy, as it is very unusual for a large scent hound to place highly in any national show in the United States. No Bloodhound, for example, has ever received a Best in Show at WKC, in over 100 years. Knotty recently (May 2006) retired from competition after placing second in the breed at Crufts in the UK.
All text is available under the terms of the GNU Free Documentation License