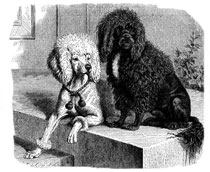 Small, Medium, & Large: The breed comes in three sizes (as described by most breed registries): Standard (15 in at the shoulder), Miniature (11 in high, but under 15), Toy (under 11 in and 10 lb or under). The American Kennel Club has a slightly different standard, with the maximum for Toys and the minimum for Miniatures at 10 in. The FCI standards divide Poodles into four groups: large, medium, miniature and toy.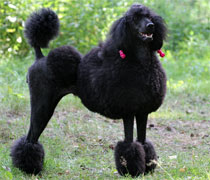 Throw them a Life Jacket: Breed standards call for a coat of solid color, one of black, white, brown, gray, blue, or apricot. "Parti" (partial), "phantom" (black and red markings, like a Dobermann Pinscher), and other coat colors exist, but are not acceptable in the show ring. The fur on the animal's body is naturally curly, often in small tight clumps of small curly ringlets. Hair on the ears can be straight or slightly curly. With brushing, the dog's fur will still retain wavy or curly properties, but will soften and straighten somewhat. The coat can be clipped in various styles.

Showoffs: For show purposes, only three clips—the puppy clip (only for dogs one year old or younger), the Continental or Lion clip (with the instantly recognizable 'mane'), and the English Saddle clip (with leg bracelets)—are acceptable. The traditional show-cut 'bracelets' of long fur covering the dog's leg joints are said to date back to winter hunts, where most of the fur was clipped short to facilitate swimming but the joints, lungs, heart, and kidneys needed protection from the cold. The pom-pom on the end of the tail served as a "flag" when the Poodle dove under the water's surface. Clip styles for pets include the Kennel clip (fur same length all over) and other styles, generally variants of the Continental. Left alone, Poodle fur will become corded in the manner of a Puli or Komondor. Working Poodles are often clipped closely to avoid tangles and to reduce the amount of water a wet dog brings into a duck boat. If a Poodle's coat is not given the attention it requires, it may form into cords.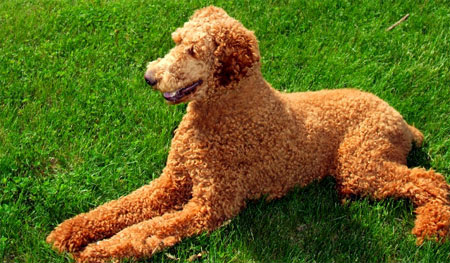 Most national registries recognize two coat types for Poodles: curly and corded. Some Poodles have coats which will more or less naturally cord, others must be coaxed into it, but virtually all Poodles are capable of having corded hair once their adult hair has been established. Puppies can be born with either type of coat, even in the same litter. Once cords have been established, they cannot be brushed out, but must be clipped away. Breed historians seem to agree that the corded coat is the older of the two varieties. Corded coats are more difficult to take care of, and corded dogs fell out of fashion, in favor of those with wooly coats.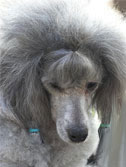 Mischievous Nature: Poodles are generally intelligent, alert, and active. In particular, the Standard variety is quite independent and has a noticeable hunting drive. Even Toys will point birds. Because they are so intelligent, they can become bored easily, and can get quite creative about finding mischief.
A Dog & Pony Show: Poodles are extremely people-oriented dogs and, therefore, are eager to please. They are excellent watchdogs, but unlike some working breeds, don't usually become "one-person" dogs when they are part of a family. Standard Poodles in particular tend to be good with children. When they are from good bloodlines, all three varieties are fairly mellow dogs. Poodles are adaptable and easy to train. They don't require as much exercise as other hunting or working breeds (even the Standards), but being agile and athletic, they appreciate lots of exercise. Poodles make good companions and are extremely loyal, sometimes to the point of being possessive. The owner should be a competent trainer, as Poodles can be wilful if trained poorly. Well-trained Poodles are eager to please and love putting on a show for family and friends.
Meet My Stylist: Poodles do not shed and are considered by some to be a hypoallergenic breed. Poodles, like all dogs, do create dander and saliva, and they can bring allergens inside on their coats, so they are really only hypoallergenic for people who are allergic to dog hair loose in their homes. Some Poodles have hyperactive tear ducts that do not drain very well. It is quite common to see Poodles with streaks of gooey brownish-red secretions in the corners of their eyes. If lots of drainage needs to occur, the tear duct may clog and a small ball of yellowish mucous may form near the tear duct. It is advisable to gently remove this accumulation with a lint-free soft towel wrapped around the index finger. Many products exist in pet stores designed to help remove this drainage from Poodles' faces, as it can be unattractive. Often these clear solutions are applied to a cotton ball which is then firmly wiped over the stained fur.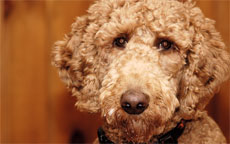 Poodles' coats require plenty of grooming to keep the constantly growing hair at a manageable length and to prevent it from matting. Matted fur can be very difficult to untangle, and often the clumps must be cut out with scissors. There a number of short pet clips that make a very easily maintained family pet.

An apple a day: As with any purebred dog, there are many health concerns for the Poodle owner to be aware of. Though the Poodle is usually a healthy, long-lived canine (it's not unheard of to see a 15-year-old Toy or Miniature Poodle or a 12-year-old Standard Poodle), owners should be aware of the health problems that this breed is predisposed to. The health concerns that people owning Toy Poodles must be aware of include: cataracts, entropion, epilepsy, intervertebral disc degeneration, lacrimal duct atresia (deformed or absent tear ducts that cause tears to run down the face), Legg-Perthes, patellar luxation, PRA (progressive retinal atrophy), trichiasis, and
urolithiasis.

For the Miniature Poodle, owners must watch for: cataracts, distichiasis, entropion, epilepsy, glaucoma, intervertebral disc degeneration, lacrimal duct atresia, Legg-Perthes, PRA (progressive retinal atrophy), patellar luxation, trichiasis, and urolithiasis. For the Standard Poodle, owners must watch for: Addison's Disease, cataracts, CHD (Canine Hip Dysplasia), distichiasis, entropion, epilepsy, gastric torsion, PDA (patent ductus arteriosus), sebaceous adenitis, and VWD (von Willebrand's disease). All three breeds are predisposed towards certain types of mammary tumors, so if the Poodle owner doesn't plan on breeding their female, then they should consider spaying her before her first heat cycle. This dramatically cuts down the Poodle's chances of developing quite a few different types of mammary tumors later in life.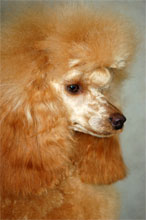 And for my next trick : Today, Poodles are generally kept as pets. However, they are a versatile breed capable of hunting, tracking, protection, or entertainment. French customs, for instance, uses Poodles to search for illegal substances. Because of their small size, they are more unobtrusive, when searching cars and train compartments, than bigger breeds such as the German Shepherd.
Their intelligence and athletic build has made them popular as trick dogs or circus performers. They can compete well in some dog sports, such as dog agility, although their independent or playful nature can sometimes distract them from the focus and drive needed for these sports.


Citizen of the World: The Poodle is often thought of as a typically French breed (it is frequently referred to as the "French Poodle"). However, it is an old breed and its region of origin is a matter of contention. Most experts believe the Poodle originated in Germany or Russia, but it may have come from Iberia. Related breeds are the Portuguese Water Dog and Irish Water Spaniel.
All text is available under the terms of the GNU Free Documentation License