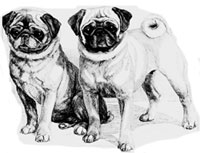 Short & Compact: While most Pugs appearing in eighteenth century prints tended to be long and lean, the current breed standards call for a square, cobby body, a compact form, deep chest, and well-developed muscle. Their heads, carried on arched necks, should be substantial and round, the better to accentuate their large, dark eyes. The wrinkles on their foreheads should be distinct and deep, and were especially prized by the Chinese as they seemed to spell out the character for "prince". Their fine, glossy coats can be apricot, fawn, silver or black. The tail should curl tightly over the hip; a double curl is considered perfection.


A Little Impish: Pugs are very sociable dogs, but quite stubborn. They are playful, charming, clever; and are known to succeed in dog obedience skills. Pugs are sensitive to the tone of a human, so harsh punishment is generally unnecessary. Pugs get along well with other dogs and pets and require lots of attention; they may become slightly jealous if their owner ignores them or does not play with them.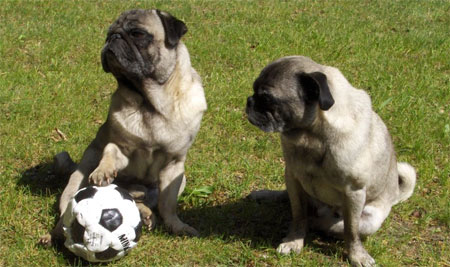 Breathe Easy: Because they have extremely short snouts and no skeletal brow ridges, Pugs can easily scratch their corneas accidentally. Their short noses can also cause them to develop breathing problems. They are prone to obesity, so they can quickly reach unhealthy weights; it is therefore important for Pug owners to make sure their pets get regular exercise. Due to their short snouts, Pugs are vulnerable to temperature extremes. It is important to make sure that they do not overheat in hot weather, and likewise they should not be left outside in cold weather.
Pugs can also suffer from a chronic form of granulomatous meningoencephalitis (an inflammation of the brain) specific to the breed called Pug Dog Encephalitis (PDE). There is no known cause or cure for PDE, although it is believed to be an inherited disease. All dogs either die or are euthanasized within a few months after the onset of clinical signs. Pugs are expected to live from about 12 to 15 years.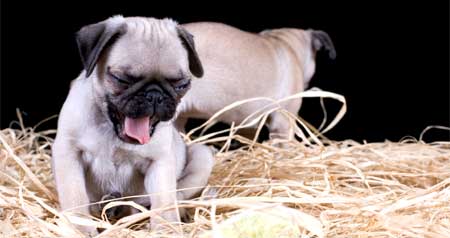 Of Royal Lineage: Bred to adorn the laps of the Chinese emperors during the Shang dynasty (1766-1122 BC), in East China, where they were known as Lo-Chiang-Sze or Foo (ceramic foos, transmogrified into dragons, with their bulging eyes are very Pug-like). The Pugs popularity spread to Tibet, where they were kept by monks, and then went onto Japan, and finally Europe.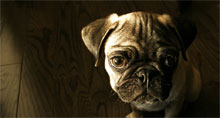 Shipping Dogs: The breed was first imported in the late sixteenth and early seventeenth centuries by merchants and crews from the Dutch East Indies Trading Company. The Pug later became the official dog of the House of Orange, and traveled with William III and Mary II when they left the Netherlands to ascend to the throne in 1688. This century also saw Pugs' popularity on the rise in other European countries. In Spain, they were painted by Goya, in Italy Pugs dressed in matching jackets and pantaloons sat by the coachmen of the rich, and in Germany and France Pugs appear several times as footnotes to history.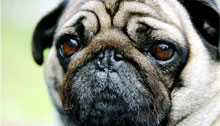 Napoleon Complex: The popularity of the Pug continued to spread in France during the eighteenth century. Before her marriage to Napoleon Bonaparte, Joséphine utilized her Pug "Fortune" to carry concealed messages to her family while she was confined at Les Carmes prison as the pet was the only recipient of visiting rights.
In nineteenth century England, Pugs flourished under the patronage of the monarch Queen Victoria. Her many Pugs, which she bred herself, had such names as Olga, Pedro, Minka, Fatima and Venus. Her involvement with the dogs in general helped to establish the Kennel Club, which was formed in 1873. Victoria favored fawn and apricot Pugs, whereas the aristocrat Lady Brassey is credited with making black Pugs fashionable after she brought some back from China in 1886. The Pug has also thrived in democratic circles, arriving in the United States sometime in the nineteenth century (the American Kennel Club recognized the breed in 1885) and was soon making its way into the family home and show ring.
All text is available under the terms of the GNU Free Documentation License