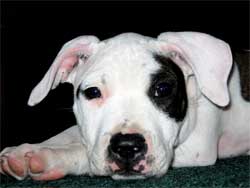 Body Builder: The "Pit bull" is a medium-sized dog: males weigh 45 - 85 lb. and females generally weigh 30 - 80 lb. Their short coat accentuates their muscular bodies, giving them the appearance of a "doggy bodybuilder." They are known for confidence, intelligence, and loyal temperament. In addition, they have an extremely high pain threshold. As athletic and energetic dogs, "Pit bulls" need to be exercised frequently. They shed and their skin can be extremely sensitive.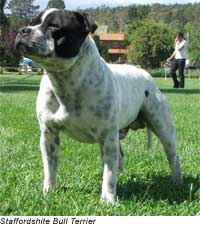 Bad Rap: These dogs have a controversial reputation due to commonly cited attack statistics and highly publicized incidents of aggression by dogs fitting the broad "Pit bull" description. Verification of many attacks is difficult due to that wide variation in Pit varieties, and the tendency to label all dangerous dogs as Pit bulls. These attack statistics have led to a certain degree of reactionary fear, and many governments and community organizations have called for bans and restrictions on Pit bulls. The hip hop world adds a catalyst to this ongoing fear of Pit
Bulls as many hip-hop stars glorify the
uses of Pit bulls.
Man's Best Friend: Breed supporters point out that Pit bulls make good family pets, showing loyalty, playfulness, and a desire to please people. They also claim that most Pit bull animals are no more or less likely to be aggressive than any other large domesticated dog. In fact many dog fancying websites and humane societies recommend "Pit bull" type dogs as family pets because of their stable temperament, high pain tolerance, and desire to please people. However, because of their physical attributes and the social stigmatization surrounding them, the Pit bull seems to be a popular choice among unsavory owners. Those who primarily want an animal to fight or to intimidate do not properly train or socialize their dogs and are partly responsible for the negative stereotype of the "Pit bull" in today's society.
A Fighting Line: "Pit bulls" were historically bred to display dominance and aggression toward other dogs—a relic of the breed's dog fighting past. Even today, some Pit bulls still retain the predisposition towards dog aggression. However, a "Pit bull" displaying the correct breed temperament is friendly towards humans, and is generally a poor choice as a guard dog. Unfortunately, many unethical breeders do not breed to the standard, producing "Pit bulls" that are both human and dog aggressive.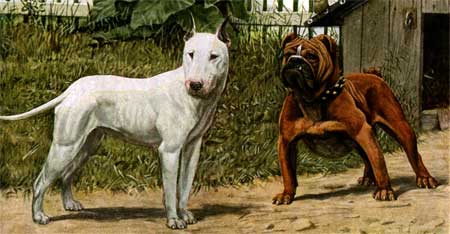 Top of the Class: The American Temperament Test Society, Inc. (ATTS) breed statistics as of December 2005 show an 83.5% passing rate for the American Pit bull Terrier and the American Staffordshire Terrier and a 84.7% passing rate for the Staffordshire Bull terrier, as compared to an 81.2% average pass rate for all dog breeds.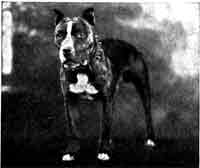 English Royalty: The ancestors of modern "Pit bulls" come from England. The English White Terrier, the Black and Tan Terrier and the Bulldog are supposedly extinct breeds, this occasion stems from their forced retirement; as with many dog breeds, the purpose of these said dogs ceased. We do know, however, that in their own time the English White Terrier, the Black and Tan Terrier and the Bulldog were prized animals, highly adapted to very unsavory, albeit necessary, tasks.

Mouse Traps: At one time every county in England had its own terrier. Many still exist, however, and many others have come to pass or have mutated into a modern breed; such is the case for the English White Terrier and the Black and Tan, whose descendants include the Bull-and-terriers, the Fox Terrier, and the Manchester Terrier. Terriers served a very real purpose in England. Vermin threatened people in more ways than as an unpleasant scare or as unwelcome guests; in the least vermin ruined crops and damaged property, at worst they served as a vehicle for The Great Pestilence. Terriers destroyed vermin efficiently and were easy animals to care for. As time went on the sports of badger and rat baiting - among others - caught on. It's from the Terrier that "Pit bulls' get their kind nature and juvenile behavior, it is also where the instinct to kill came from.
Lock-Jaw: At the same time, Mastiff type dogs have existed in England for millennium. Their origins are somewhat uncertain, particularly because of myth. It can be assumed, however, that the Celts brought the Mastiff to Britain from the continent. It also known that the Normans introduced the Alaunt. Mastiffs of varying size existed on the Island for years, but it was not until the Renaissance that formal distinctions were made. These dogs were used in battle and for guarding, but they also served utilitarian purposes, such as farm work. Specifically, these dogs accompanied farmers into the fields to assist with bringing Bulls in for breeding, castration, or slaughter. The dogs, known generally as Bulldogs, protected the farmer by subduing the Bull if it attempted to gore him. Typically a dog would do this by biting the Bull on the nose and holding on until the Bull submitted. Because of the nature of their job, Bulldogs were bred to have powerful, muscular bodies, and the resolve to hold onto a violently-struggling Bull, even when injured.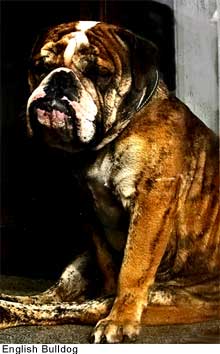 We're in for a Dog Fight: Eventually these dogs' purpose inspired the widespread practice of the bloody sports of Bull-baiting and bear-baiting. In Elizabethan England, these spectacles were popular forms of entertainment. However, in 1835, Bull-baiting and bear-baiting were abolished by Parliament as cruel, and the custom died out over the following years.
The sport of dog fighting, which could be carried out under clandestine measures, blossomed. Since Bulldogs proved too ponderous and disinterested in dog fighting, the Bulldogs were crossed to English White and Black and Tan Terriers. They were also bred to be intelligent and level-headed during fights and remain non-aggressive toward humans. Part of the standard for organized dog-fighting required that the match referee who is unacquainted with the dog be able to enter the ring, pick up a dog while it was engaged in a fight, and get the respective owner to carry it out of the ring without being bitten. Dogs that bit the referee were culled.
As a result, Victorian fighting dogs (Staffordshire Bull Terriers and, though less commonly used as fighters, English Bull Terriers) generally had stable temperaments and were commonly kept in the home by the gambling men who owned them.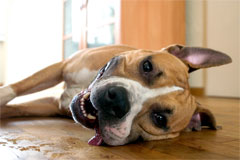 All American Pooch: During the mid-1800s, immigration to the United States from Ireland and England brought an influx of these dogs to America, mainly Boston where they were bred to be larger and stockier, working as farm dogs in the West as much as fighting dogs in the cities. The resulting breed, also called the American Pit bull Terrier, became known as an "all-American" dog. "Pit bull" type dogs became popular as family pets for citizens who were not involved in dog-fighting or farming. In the early 1900s they began to appear in films, one of the more famous examples being Pete the Pup from the Our Gang shorts (later known as The Little Rascals).
During World War I the breed's widespread popularity led to its being featured on pro-American propaganda posters.
All text is available under the terms of the GNU Free Documentation License