They are generally 10 to 11 inches at the withers and weigh between 12 and 18 lbs. Lhasas should have dark brown eyes with black pigmentation on eye rims and a black nose. They have a hard straight outer coat with soft undercoat (depending upon weather conditions) which comes in a variety of different colors. The tail should curl up over the back.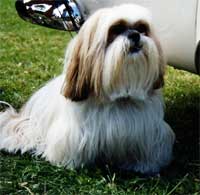 Having been bred to be sentinel or watch dogs, Lhasa Apsos tend to be alert and have a keen sense of hearing with a rich, sonorous bark that belies their size (some are known as "singers"). They are bright and outgoing, but some tend toward wariness of strangers. Wariness does not mean unwarranted aggressiveness but having a discerning attitude towards strangers; people approaching the dog simply need to show that they are a friend. However, many Lhasas are quite friendly from the first introduction. If not properly socialized, some may become aggressive or overly shy toward strangers. Lhasas also have a very good memory and will hold grudges and often show dislike to the same people throughout their life if treated wrongly by them at a young age.
They are very affectionate but can also be very possessive, independent and bossy little dogs. With their intellect and sensitivity, Lhasas are not necessarily well suited to children.


It is believed that the breed originated from Lhasa, the capital of Tibet (hence the name) around 800 BC. These dogs were raised by the aristocratic part of the Tibetan society and by Tibetan monks in the monasteries. They were very valuable both spiritually and materialistically. To be presented with a Lhasa Apso was to be blessed with good fortune.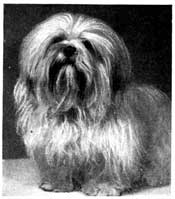 Lhasa Apsos have adopted an incentive to be
wary of strangers from their owners, who, due
to the geographical location of Tibet, were also cautious of outsiders. The heavy coat of
Lhasas can also be explained by the geographical features of Tibet: the temperature frequently
drops below freezing thus making it hard for a dog to survive without sufficient insulation. Lhasas
were rarely groomed by their owners thus allowing the breed to adapt to the harsh weather.
In 1901 Mrs. A. McLaren Morrison brought the Lhasa Apso to the United Kingdom of Great Britain and Ireland where it was registered as an official breed in The Kennel Club in 1902. World War I had a devastating effect on the breed. It has been reported that as few as 30 Lhasa Apsos may have existed in Tibet at that time. The original American pair was a gift from Thubten Gyatso, 13th Dalai Lama to C. Suydam Cutting, arriving in the United States in the early 1930s. The American Kennel Club officially accepted the breed in 1935 in the Terrier group, and in 1959 transferred the breed to the Non-Sporting group.
Recently, DNA Analysis has identified the Lhasa Apso as one of the 14 most ancient dog breeds.
All text is available under the terms of the GNU Free Documentation License