The Aleutian Islands (possibly from Chukchi aliat, "island") are a chain of more than 300 small volcanic islands forming an island arc situated in the Northern Pacific Ocean, occupying an area of 6,821 sq mi (17,666 sq km) and extending about 1,200 mi (1,900 km) westward from the Alaska Peninsula toward the Kamchatka Peninsula. Crossing longitude 180°, they are the westernmost part of the United States (and technically also the easternmost). Nearly all of the archipelago is part of Alaska and usually considered as being in the "Alaskan Bush", but the extreme western end is in Russia. The islands, with their 57 volcanoes, are located in the northern part of the Pacific Ring of Fire.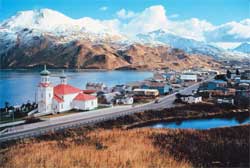 The islands, known before 1867 as the Catherine Archipelago, comprise four groups— the Fox, Andreanof, Rat and Near Islands. They are all located between 52 degrees and 55 degrees North latitude and 172 degrees East and 163 degrees West longitude.
The axis of the archipelago near the mainland of Alaska has a southwest trend, but near the 129th meridian its direction changes to the northwest. This change of direction corresponds to a curve in the line of volcanic fissures which have contributed their products to the building of the islands. Such curved chains are repeated about the Pacific Ocean in the Kuril Islands, the Japanese chain and in the Philippines. All these island arcs are at the edge of the Pacific Plate and experience lots of seismic activity, but are still habitable; the Aleutians lie between the Pacific and North American tectonic plates. The general elevation is greatest in the eastern islands and least in the western. The island chain is really a western continuation of the Aleutian Range on the mainland.
The great majority of the islands bear evident marks of volcanic origin, and there are numerous volcanic cones on the north side of the chain, some of them active; many of the islands, however, are not wholly volcanic, but contain crystalline or sedimentary rocks, and also amber and beds of lignite. The coasts are rocky and surf-worn, and the approaches are exceedingly dangerous, the land rising immediately from the coasts to steep, bold mountains.