The Bald Eagle (Haliaeetus leucocephalus) is a bird of prey originating in North America, most recognizable as the national bird of the United States. The species was on the brink of extinction late in the 20th century but now has a stable population and is in the process of being removed from the U.S. federal government's list of endangered species.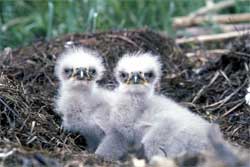 An immature bird has speckled brown feathers all over, the distinctive head and body plumage arriving 2–3 years later, before sexual maturity. Adult females have a wingspan of approximately 2.1 meters (7 feet); adult males have a wingspan of 2 meters (6 feet, 6 inches). Adult females weigh approximately 5.8 kg (12.8 lb), males weigh 4.1 kg (9 lb).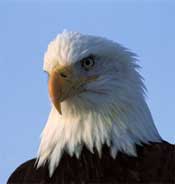 The bird gets both its common and scientific names from the distinctive appearance of the adult's head. Bald in the English name refers to the white head feathers, and the scientific name is derived from Haliaeetus, the New Latin for "sea eagle," (from the Greek haliaetos) and leucocephalus, the Greek for "white head," from leukos ("white") and kephale ("head").
They are protected by three federal laws: the eagle law which protects bald and golden eagles, the migratory bird act, and the endangered species list up until February 13, 2006 when they were removed from the list.

Bald Eagles can be found in small concentrations throughout the U.S. and Canada, particularly near large bodies of water. The state with the largest resident population is Alaska; out of the estimated 100,000 Bald Eagles on Earth, half live in Alaska.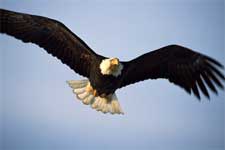 The Bald Eagle is the national bird of the United States of America. It is probably one of the country's most recognizable symbols, and appears on most of its official seals, including the Seal of the President of the United States.
Its national significance dates back to June 20, 1782, when the Continental Congress officially adopted the current design for the Great Seal of the United States including a Bald Eagle grasping arrows and an olive branch with its talons. Some states had earlier done so in 1778.
In 1784, after the end of the Revolutionary War, Benjamin Franklin wrote a famous letter to his daughter from Paris criticizing the choice and suggesting the Wild Turkey's character as a desirable trait.
Despite Franklin's objections, the Bald Eagle remained the emblem of the United States. It can be found on both national seals and on the back of several coins (including the quarter dollar coin until 1999), with its head oriented towards the olive branch. Between 1916 and 1945, the Presidential Flag showed an eagle facing to its left (the viewer's right), which gave rise to the urban legend that the seal is changed to have the eagle face towards the olive branch in peace, and towards the arrows in wartime.