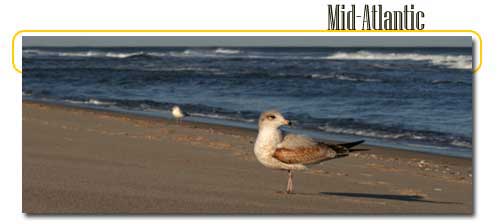 The Mid-Atlantic States (also called Middle Atlantic States) of the United States traditionally refers to that section of the Atlantic Seaboard between New England and the South. The definition always includes New York,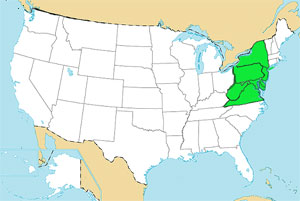 New Jersey, and Pennsylvania, and usually includes Delaware, Maryland,and Washington D.C. Virginia and West Virginia are sometimes included as well. A narrower and less widely-accepted United States Census Bureau statistical grouping places it within the larger Northeastern United States region, leaving Delaware and Maryland to The South.



From early colonial times, the Mid-Atlantic region was settled by a wider range of European peoples than in New England or the South. The New Netherland settlement along the Hudson River in New York and New Jersey, and for a time New Sweden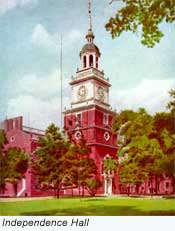 along the Delaware River in Delaware, divided the two great bulwarks of English settlement from each other. The original English settlements in the region notably provided refuge to religious minorities, Maryland to Roman Catholics, and Pennsylvania to the Friends and the mostly Anabaptist Pennsylvania Dutch. In time, all these settlements fell under English control, but the region continued to be a magnet for people of diverse nationalities.
Early settlers were mostly farmers and traders and fishermen, and the region, called the Middle Colonies, served as a strategic bridge between North and South. Philadelphia, midway between the northern and southern colonies, was home to the Continental Congress, the convention of delegates from the original colonies that organized the American Revolution. The same city was the birthplace of the Declaration of Independence in 1776 and the U.S. Constitution in 1787.

The Middle Atlantic states provided the young United States with heavy industry and served as the "melting pot" of new immigrants from Europe. Cities grew along major shipping routes and waterways. Such flourishing cities included New York City on the Hudson River, Philadelphia on the Delaware River, and Baltimore on the Chesapeake Bay.


The Mid-Atlantic States comprise the most densely-populated of the nine U.S. regions, and anchor the megalopolis which runs from Boston to Washington, D.C.. The southeastern part of New York State, eastern Pennsylvania, and all of New Jersey combine to form the bulk of the moral region of the metropolis, according to noted sociopolitical geographers James Patterson and Peter Kim, co-authors of the groundbreaking 1991 book The Day America Told The Truth. The book classifies the remainder of New York State and Pennsylvania in the Rust Belt.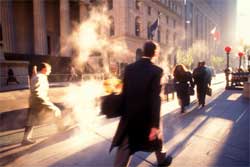 The region is among the most ethnically-diverse regions in the nation and world. Large populations of African Americans, Latin Americans, Asians, West Indians, Arabs, and Europeans reside and continue to come to the Mid-Atlantic states. The region's ethnic diversity dates back to colonial times, with Dutch and Swedish colonies, and colonies such as Pennsylvania actively promoting ethnically diverse immigration.

Region Map: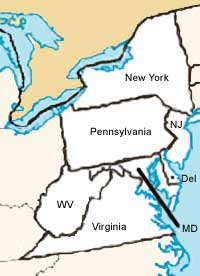 States:
Delaware (DE) 783,600
Maryland (MD) 5,600,388
New Jersey (MD) 8,414,350
New York (NY) 18,976,457
Pennsylvania (PA) 12,281,054
Virginia (VA) 7,567,465
West Virginia (WV) 1,808,344
Population (2000): 55,431,658
Major Cities: Albany (NY), Buffalo (NY), New York City (NY), Syracuse (NY), Harrisburg (PA), Philadelphia (PA), Pittsburgh (PA), New Castle (DE), Newark (DE), Wilmington (DE), Annapolis (MD), Baltimore (MD), Bethesda (MD), Trenton (NJ), Newark (NJ), Jersey City (NJ), Virginia Beach (VA), Richmond (VA), Alexandria (VA), Charleston (WV), Wheeling (WV), Morgantown (WV)