Nut Storage: One well-known trait of some species of squirrel is the gathering and storing of nuts for the winter. These squirrels are scatter-hoarders, i.e. they will gather nuts and store them in any accessible hiding place, usually by burying them. Recent research shows that they have excellent memories for the locations of these caches.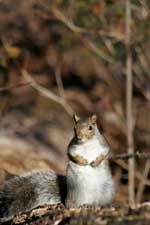 Danger Posture: Another characteristic trait of several types of squirrels, especially ground squirrels, is their tendency to rise on their hind legs and curl their paws flat against their chests when they sense any kind of danger. They will then survey their surrounding territories. If they feel that they are in peril, they will often send the warning call, a loud screeching sound, to alert other squirrels. Then there is a mad rush to
the burrow.
Diet: Unlike rabbits or deer, squirrels cannot digest cellulose, and must rely on foods rich in protein, carbohydrates, and fat. Early spring is the hardest time of year for squirrels, as buried nuts begin to sprout
and are no longer available, but new food sources
have not become available yet.
During these times squirrels rely heavily on the buds of trees, in particular, those of the Silver Maple. Despite popular impression, squirrels are actually omnivores; as well as eating a wide variety of plant food, including nuts, seeds, fruits, fungi (for example, mushrooms), and green vegetation, they also eat insects, eggs, and even small birds, smaller mammals, and frogs. It is also a common occurrence that these foods replace nuts in some of the tropics. There has even been a report of squirrels eating dogs.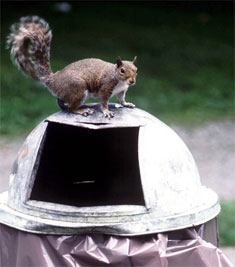 Squirrel as Pests: Squirrels are generally clever and persistent animals; in residential neighborhoods they are notorious for eating out of bird feeders, digging in potted plants either to bury or recover seeds, and for setting up house in sheltered areas including attics. While many companies sell bird feeders which are supposedly "squirrel-proof", most of them in fact are not.
Squirrels are sometimes also pests because they chew on various edible and inedible objects; the habit helps keep the squirrel's teeth sharp and also wears them down (many rodents' teeth grow continuously).
Homeowners in areas with a heavy squirrel population must keep attics and basements carefully sealed to prevent property damage caused by nesting squirrels. Some homeowners resort to more humane ways of dealing with this, such as collecting and planting fur from pets (e.g domestic cats and dogs) in attics. This fur will indicate to nesting squirrels that a potential predator roams and will encourage evacuation. Fake owls and scarecrows are generally ignored by the animals, and the best way to prevent chewing on an object is to coat it with something to make it undesirable: for instance a soft cloth or chile pepper paste or powder. Squirrel trapping is also practiced to remove them from residential areas.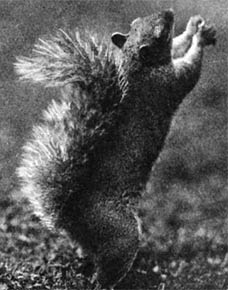 Hand-feeding: Squirrels can be trained to be hand-fed. Because they are able to cache surplus food, they will take as much food as you put out. If a person starts to feed one, that squirrel will come back day after day to get its food. Squirrels living in parks and campuses in cities have learned long ago that humans are typically a ready source of food. Hand feeding is not recommended, however, because squirrels may carry plague or other animal-borne diseases. Even if they do not carry disease, they often have a hard time telling fingertips from food, and bites are painful.
Power Outages: Squirrels are often the cause of electricity outages. The animals will enter transformers or capacitors looking for food. The squirrels are then electrocuted and cause a power surge that shorts equipment. Squirrels have brought down the high-tech NASDAQ stock market twice, and were responsible for a spate of power outages at the University of Alabama. They will often chew on tree branches to sharpen their teeth, but cannot tell the difference between a tree branch and a live power line. Rubber plates are sometimes used to prevent access to these facilities.


Typical squirrels include the European Red Squirrel (Sciurus vulgaris), the Fox Squirrel (S. niger), the Eastern Gray Squirrel (S. carolinensis), the Western Gray Squirrel (S. griseus), the Douglas Squirrel (Tamiasciurus douglasii), and the American Red Squirrel (Tamiasciurus hudsonicus).
The "Black Squirrel" is actually a variant of the Eastern Gray Squirrel. It is thought that the black variant developed its dark coat to better absorb heat in colder climates. Although considered rare in many areas, it is the dominant variety in most of Ontario, Quebec, certain areas of the Northeastern United States, and as far south as Maryland and Virginia. Black squirrels, appearing to be identical to the red squirrels in the area, are also fairly common in the midwestern United States, particularly in some communities in southwestern Iowa, such as Council Bluffs, Manilla, and Missouri Valley. Black squirrels may also be found in Marysville, Kansas, Omaha, Nebraska and within the confines of Stuyvesant Town in New York City. In the United Kingdom, a colony of black squirrels has existed around the town of Letchworth Garden City for many years. They have also been seen in the Fox Lake area in Illinois and Northern Ohio.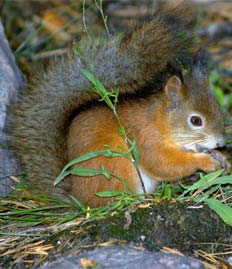 The Red Squirrel populations in Britain, Ireland, and, more recently, northern Italy, have declined and become regionally extinct in recent decades, primarily because of competition from Gray Squirrels (introduced from
North America), but also habitat loss.
Conservation efforts include preserving and planting the conifer forests that Red Squirrels prefer. The recent colonization of mainland Europe from Italy by Gray Squirrels is expected to result ultimately in the extinction of the Red Squirrel over most of Europe.
White Squirrels can be found in Kansas City, Kansas, Olney, Illinois, Brevard, North Carolina, Marionville, Missouri, and Oberlin, Ohio. There have been sightings in Effingham, Illinois, Lemont, Illinois, Laurel, Maryland and Washington, DC.
All text is available under the terms of the GNU Free Documentation License