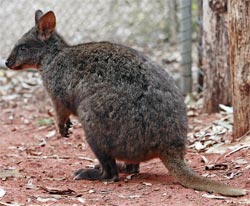 Just the Facts: Quokkas are the only member of the genus Setonix. They are 40 to 54 cm long with a 25 to 30 cm tail — which is rather short for a macropod.
They have a stocky build, rounded ears, and a short, broad head. Although looking rather like a very small, dumpy kangaroo, they can climb small trees and shrubs. Their coarse fur is a grizzled brown color, fading to buff underneath.


Vulnerable Species: In the wild, it is now restricted to a very small range in mainland south-western Western Australia, where it has become rare, and on two cat-free and fox-free islands off the coast: Bald Island and Rottnest Island — which is its stronghold. On Rottnest it is common and occupies a wide range of habitats, ranging from semi-arid scrub to cultivated gardens.
Although numerous on the small offshore islands, they have a very restricted range and are classified as vulnerable. On the mainland, where they must contend with introduced foxes and cats, they require dense ground cover for refuge.
Social Lives: Quokkas are gregarious and gather in large groups where food is available: primary items are grasses, sedges, succulents and foliage. They breed at any time on the mainland, but in late summer on Rottnest. Quokkas only produce a single joey in a year. Restricted availability of the trace element copper appears to be a major limiting factor of the ability of Quokkas to breed on Rottnest.


Rats and Cats: Quokkas were one of the first Australian mammals seen by Europeans. The Dutch mariner Samuel Volckertzoon wrote of sighting "a wild cat" on Rottnest Island in 1658. In 1696 Willem de Vlamingh mistook them for rats and named the island "Rottenest", Dutch for "rat nest".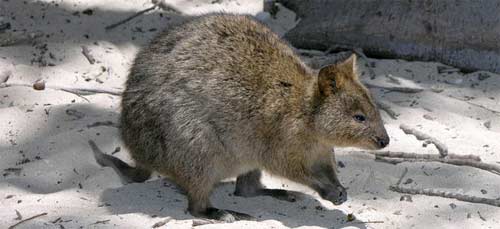 All text is available under the terms of the GNU Free Documentation License