World's Smallest Mole: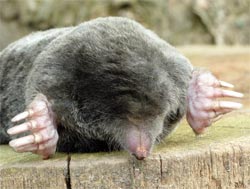 The American shrew mole is the smallest North American mole. It is the only member of the genus Neurotrichus. It has dark gray fur, a long flattened snout and has a short but thick bristled tail.
It is about 10 cm in length including a 3 cm long tail and weighs about 10 g. Its front paws are smaller and do not face outwards from the body as in other fossorial moles and so are more similar to those of shrews. They have 36 teeth.
Just a Common Mole: The Eastern Mole or Common Mole (Scalopus aquaticus) is a medium-sized North American mole. It is the only member of genus Scalopus. The Eastern Mole has gray-brown fur with silver gray underparts, a pointed nose and has a short tail. They are about 16 cm in length including a 3 cm long tail and weighs about 75 g. Their front paws are broad and spade-shaped, specialized for digging. They have 36 teeth. Their eyes are covered by fur and their ears are not visible.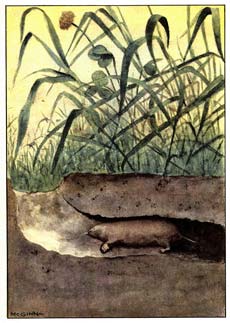 Don't Bite My Head Off! Moles primarily eat worms, generally found in abundant supplies underground. The moles immobilize their victim by first biting off its head. Moles are considered to be an agricultural pest in some countries , while in others such as Germany they are a protected species.
Mischievous Moles: Problems caused are cited as contamination of silage with soil particles making it unpalatable to animals, the covering of pasture with fresh soil reducing its size and yield , damage to agricultural machinery by the exposure of stones, damage to young plants through disturbance of the soil, weed invasion of pasture through exposure of fresh tilled soil, and damage to drainage systems and watercourses.
Other species such as weasels and voles may use mole tunnels to gain access to enclosed areas or plant roots.
Mountain of a Mole-hill: Moles that burrow in the lawns of humans can disturb the earth, raising molehills and causing enough aesthetic problems to be considered as pests. They do however benefit the soil by aerating and tilling it, adding to its fertility. Contrary to popular belief, moles don't eat plant roots.
They are controlled with traps and poisons such as calcium carbide and strychnine.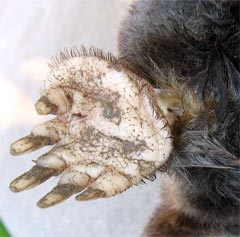 Portrait of a Mole: The American shrew mole is found in damp forested or bushy areas with deep loose soils in the western United States and southwestern British Columbia.This mole is often active above ground, foraging in leaf litter for earthworms, insects, snails and slugs. They are able to climb bushes. Predators include owls, hawks and mustelids.
Portrait of a Mole II: The Eastern Mole is found in forested and open areas with moist sandy soils in northern Mexico, the eastern United States and the southwestern corner of Ontario in Canada.
This mole spends most of its time underground, foraging in shallow burrows for earthworms, grubs, beetles, insect larvae and some plant matter. They are active year round. These animals are mainly solitary except during mating in early spring. The female has a litter of 2 to 5 young in a deep underground burrow.


All in the Family: The mole family is divided into three subfamilies:
* Desmaninae (desmans)
* Talpinae (moles)
* Uropsilinae (shrew moles)

All text is available under the terms of the GNU Free Documentation License