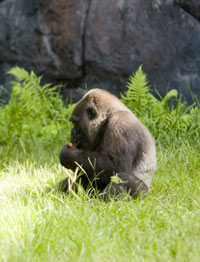 Gentle Giants: Gorillas are usually a very gentle animal. They are rather calm animals except when they think they are in danger. It is better to look away and shake your head when with a gorilla then look directly in its eyes, which is viewed as something threatening. The stereotype of gorillas beating their chest isn't false however... when threatened by enemies they do display their chests, beating on them, charging toward the enemy and staring. This is mostly to scare the opponent however, normally the gorilla will stop short a few feet away.
Knuckle walkers: Gorillas move around by knuckle-walking. Adult males range in height from 165-175 cm (5 ft 5 in-5 ft 9 in), and in weight from 140-165 kg (310-365 lb). Females are about half the weight of males. They also have a big grasping toe that allows them to use their feet in a similar way to their hands - to climb trees or pickup food.
Gorillas have a facial structure which is described as prognathous, that is, their mandible protrudes further out than the maxilla.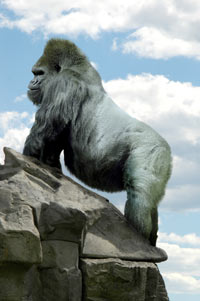 Lifespan is between 30–50 years. The Philadelphia Zoo's Massa set the longevity record of 54 years at the time of his death.
Salad eaters: Gorillas are mainly vegetarian, eating fruits, leaves, and shoots. Insects make up 1-2% of their diet. Due to their diet of plant life, gorillas often have bloated stomachs.
Silverback: A silverback is an adult male gorilla, typically more than 12 years of age and named for the distinctive patch of silver hair on his back. A silverback gorilla has large canines that come with maturity. Blackbacks are sexually mature males of up to 11 years of age.
Silver leader: Silverbacks are the strong, dominant troop leaders. Each typically leads a troop of to 30 gorillas consisting of females and possibly one or two related males living on the edge of the group, and is the center of the troop's attention, making all the decisions, mediating conflicts, determining the movements of the group, leading the others to feeding sites and taking responsibility for the safety and well-being of the troop.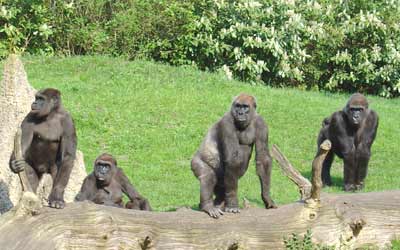 Wandering sons: Males will slowly begin to leave their original troop when they are about 11 years old, traveling alone or with a group of other males for 2–5 years before being able to attract females to form a new group and start breeding. While infant gorillas normally stay with their mother for 3–4 years, silverbacks will care for weaned young orphans, though never to the extent of carrying the little gorillas.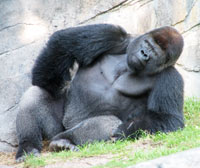 Too many husbands: If challenged by a younger or even by an outsider male, a silverback will scream, beat his chest, break branches, bare his teeth, then charge forward. Sometimes a younger male in the group can take over leadership from an old male. If the leader is killed by disease, accident, fighting or poachers, the group will split up, as animals disperse to look for a new protective male. Very occasionally, a group might be taken over in its entirety by another male. There is a strong risk that the new male may kill the infants of the dead silverback.



Ground dwellers: Gorillas are diurnal and live primarily on the ground. They climb trees sometimes when collecting food, and it is more common among females and young.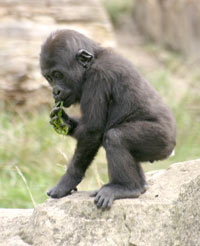 Gorilla nests : Gorillas build nests on the ground. Everyday when the gorillas wake up, they travel to a new area so they don't deplete all the food where they were the day before. After spending the morning eating, the adult gorillas they make a new nest using twigs, leaves and branches in the new location for a nap and rest while the young gorillas play. After waking, they will then eat again, and then build another nest for their nighttime sleeping. They don't use the same nest twice.
Tool use: The following observations were made by a team led by Thomas Breuer of the Wildlife Conservation Society in September 2005. Gorillas are now known to use tools in the wild. A female gorilla in the Nouabalé-Ndoki National Park in the Republic of Congo was recorded using a stick as if to gauge the depth of water whilst crossing a swamp. A second female was seen using a tree stump as a bridge and also as a support whilst fishing in the swamp. This means that all of the great apes are now known to use tools.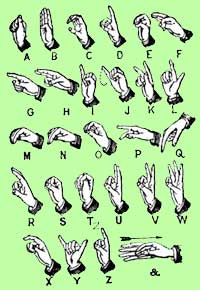 Gorillas have been taught sign language! Gorillas are closely related to humans and are considered highly intelligent. A few individuals in captivity, such as Koko, have been taught a subset of sign language.
A giant gorilla and a tiny kitten: Dr. Francine "Penny" Patterson and other scientists from Stanford University taught Koko to communicate by using American Sign Language. Koko began her education at the age of one and was eventually was able to effectively use over 1,000 signs. Koko loved having stories with cats read aloud to her, including "The 3 Little Kittens", and requested a cat of her own. She was granted that request and given a pet kitten that Koko herself named 'All Ball' (the kitten did not have a tail and looked like a little ball to Koko). Her gentleness with the kitten amazed the world. When All Ball died Koko mourned for days and used the signs for 'cry' and 'sad'.


Gorillas in trouble: Despite the fact that gorillas have no natural predators or enemies, these gentle giants are extremely endangered. The reason for that is because of humans; humans hunt gorillas for bushmeat (food), and humans are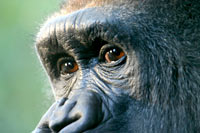 constantly invading gorilla habitat, destorying it with logging and other human activities like mining, agriculture, and cattle ranching - all cases where the forests gorillas live are taken over by humans.

Helping gorillas: Something that you can do to help gorillas is to make sure that any wood you buy is certified. If you buy certified wood, this means that the wood was aquired in a way approved by forestry experts, and that will encourage logging companies in Africa to abide by the wildlife laws put in place to protect African animals like gorillas.


Until recently there were considered to be three species of gorilla, the Western Lowland, the Eastern Lowland and Mountain Gorilla. There is now agreement that the gorilla is divided into two species of at least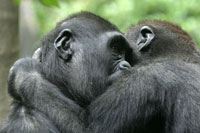 two subspecies each. More recently it has been claimed that a third subspecies exists in one of these groups.
Reproduction: Gestation is 8½ months. There are typically 3 to 4 years between births. Infants stay with their mothers for 3-4 years. Females mature at 10–12 years (earlier in captivity); males 11–13 years.
Genus Gorilla

Western Gorilla (Gorilla gorilla)

Western Lowland Gorilla (Gorilla gorilla gorilla)
Cross River Gorilla (Gorilla gorilla diehli)

Eastern Gorilla (Gorilla beringei)

Mountain Gorilla (Gorilla beringei beringei)
Eastern Lowland Gorilla (Gorilla beringei graueri)
All text is available under the terms of the GNU Free Documentation License