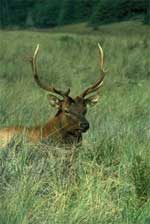 Antlers: Deer differ from other ruminants in that they have antlers instead of horns. Antlers are bony growths that develop each year (usually in summer) and, in general, it is only male deer that develop them (although there are exceptions).
First Pair: A young buck's first pair of antlers grow from two tiny bumps on their head that they have had from birth. The antlers grow wrapped in a thick layer of velvet and remain that way for one month, until the bone inside is hard; later the velvet is shed. During the mating season, bucks use their antlers to fight one another for the opportunity to attract mates in a given herd. The two bucks circle each other, bend back their legs, lower their heads, and charge.
Deer generally have lithe, compact bodies and long, powerful legs suited for rugged woodland terrain. Deer are also excellent swimmers. Their lower cheek teeth have crescent ridges of enamel, which enable them to grind a wide variety of vegetation. Deer are ruminants or cud-chewers and have a four-chambered stomach. Nearly all deer have a facial gland in front of each eye. The gland contains a strongly scented substance called pheromone, used to mark its home range. Bucks of a wide range of species open these glands wide when angry or excited. Except for the musk deer, all deer have a liver without a gallbladder. The Musk deer, along with the Chinese Water deer also differ from other species in that they have no antlers and bear upper canines developed into tusks.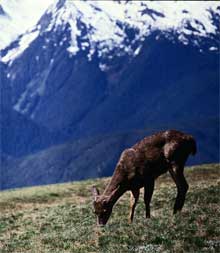 Diet: Deer are selective feeders. They feed on leaves. They have small, unspecialized stomachs by herbivore standards, and high nutrition requirements: ingesting sufficient minerals to grow a new pair of antlers every year is a significant task. Rather than attempt to digest vast quantities of low-grade, fibrous food as, for example, sheep and cattle do, deer select easily digestible shoots, young leaves, fresh grasses, soft twigs, fruit, fungi, and lichens.
Economic Significance: Deer have long had economic significance to humans. While they are generally not as easily domesticated as sheep, goats, pigs, and even cattle, the association between people and deer is very old. Deer meat, for which they are hunted and farmed, is called venison.
Possible Advertisement
Musk: Musk, which comes from the gland on the abdomen of musk deer, is used in medicines and perfumes.
Deerskin: Deerskin is used for shoes, boots, and gloves, and antlers are made into buttons and knife handles.
Reindeer Satisfies All: The Saami of Scandinavia and the Kola Peninsula of Russia and other nomadic peoples of northern Asia used reindeer for food, clothing, and transport.
Caribou: The Caribou is not domesticated or herded as is the case in Europe but is important to the Inuit. Most commercial venison in the United States is imported from New Zealand. Deer were originally brought to New Zealand by European settlers, and the deer population rose rapidly. This caused great environmental damage and was controlled by hunting and poisoning until the concept of deer farming in the 1960s. Deer farms in New Zealand number more than 3,500, with more than 400,000 deer in all.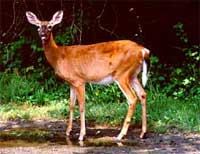 White-tailed Deer: The White-tailed deer (Odocoileus virginianus), also known as the Virginia deer, is a medium-sized deer found throughout most of the continental United States, southern Canada, Mexico, Central America and northern portions of South America as far south as Peru. White-tailed deer are generalists and can adapt to a wide variety of habitats. Although most often thought of as forest animals depending on relatively small openings and edges, White-tailed deer can equally adapt themselves to life in more open savanna and even sage communities as in Texas and in the Venezuelan llanos region.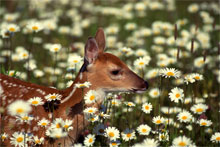 A Happy Day: A doe generally has one or two fawns at a time (triplets, while not unusual, are much more infrequent). The gestation period is anywhere between 160 days (just over 5 months) in the Musk deer to ten months for the Roe deer. Most fawns are born with their fur covered with white spots, though they lose their spots once they get older (excluding the Fallow Deer who keeps its spots for life). In the first twenty minutes of a fawn's life, the fawn begins to take its first steps. Its mother licks it clean until it is almost free of scent, so predators will not find it. Its mother leaves often, and the fawn does not like to be left behind. Sometimes its mother must gently push it down with her foot. The fawn stays hidden in the grass for one week until it is strong enough to walk with its mother. After two days, a fawn is able to walk, and by three weeks it can run and jump. The fawn and its mother stay together for about one year. They then go their separate ways. A male usually never sees his mother again, but females sometimes come back with their own fawns and form small herds.


There are about 34 species of deer worldwide, divided into two broad groups: the old world group includes the subfamilies Muntiacinae and Cervinae; the new world deer the subfamilies Hydropotinae and Capreolinae. Note that the terms indicate the origin of the groups, not their modern distribution: the Water Deer, for example, is a new world species but is found only in China and Korea.
It is thought that the new world group evolved about 5 million years ago in the forests of North America and Siberia, the old world deer in Asia.
All text is available under the terms of the GNU Free Documentation License