Just the Facts: The spiny dogfish has dorsal spines, no anal fin, and white spots along its back. They can grow up to 107 cm and are greyish brown in color. Males are identified by their "claspers," while females have none.


Something's Fishy: The spiny dogfish shark is found in shallow waters and offshore in most parts of the world, especially in temperate waters. It feeds on small fish and invertebrates, and can be present in such great numbers that it can seriously impact commercial fisheries. It is also a common prey item for large fish, other sharks, and marine mammals.



Birds and Bees: Reproduction is ovoviviparous, meaning that they produce eggs that develop inside the mother's body and hatch immediately after their release from the parent. Litters can range in size between 6 and 15 young fish.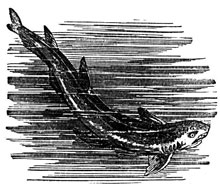 Food for Thought: Spiny dogfish are fished for food in Europe, the United States, Canada, New Zealand and Chile. The meat is primarily consumed in England, France, the Benelux countries and Germany.
The fins and tails are processed into fin needles and are used in less expensive versions of shark fin soup in Chinese cuisine. In England it is sold in "fish
and chip shops" as "rock salmon", in
France it is sold as "small salmon" (saumonette) and in Belgium it is sold as "sea eel" (zeepaling). It is also used as fertilizer, liver oil, and pet food, and, because of its availability and manageable size, as a popular vertebrate dissection specimen, especially in high schools.

All text is available under the terms of the GNU Free Documentation License