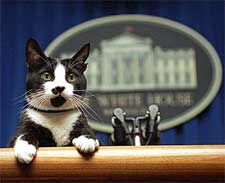 First Cats: The prejudice against cats in our political process has long been overlooked. A great deal of attention is given to the "first dogs" who served in the White House, but very little press is said of our "first cats." Cat lovers believe the answer to this mystery is simple: Dogs are publicity hounds, but cats prefer to work behind the scenes.
Cats influence our Presidents in ways that the Presidents don't even notice (but the cats do). They have a long history in our nation's capital, and have always done their jobs quietly and efficiently, never asking for more than their due. They began their careers as rat-catchers, which, in Washington, D.C., can be a full time job.
Honest Abe: Honest Abe Lincoln was the first President to bring a cat into the White House, since previous Presidents were partial to dogs and horses. But when Lincoln's son, Tad, asked to bring his cat on the trip from Illinois to the nation's capital, Lincoln obliged.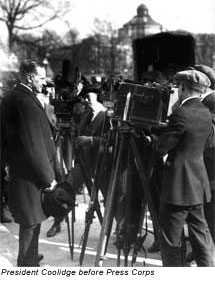 Tabby, as the cat was called, was a trailblazer in cat politics, and opened the way for cats in subsequent generations.
Rise to Power: It was over 50 years before the next cat was able to take hold of the White House. Calvin Coolidge and his family nearly had an entire zoo in the White House while he served as President, including a few cats. One cat in particular, Tiger, held a special place in the White House. Literally. The President was often seen walking around the White House with Tiger draped on his neck. When Tiger went missing, Coolidge appealed to the people by calling for their help on a radio address.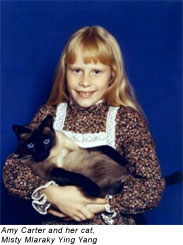 Since then cats have come and gone from the White House. President Rutherford B. Hayes was actually given the first Siamese cat in the U.S. from the American Consul in Bangkok as a gift. Jimmy Carter's free-spirited daughter also had a Siamese cat, which she called Misty Malarky Ying Yang. Teddy Roosevelt and Gerald Ford had cats while serving. JFK did as well, known as Tom Kitten, but the cat was removed from office when it was discovered that President Kennedy could not work with him (JFK was also allergic to cats). One reporter admired the cat because after leaving the White House it never wrote its memoirs or cashed in on its popularity.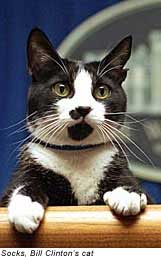 Socks: The Clinton family brought a cat to Washington from Arkansas - Socks. As a child, Chelsea Clinton was taking piano lessons when she saw a little kitten playing outside. She went out and began admiring the cat when it suddenly jumped up into her arms. Chelsea couldn't let the cat go, and brought it back to the governor's mansion. The Clinton's adopted the cat, and when Bill was elected President the Clinton family brought it to Washington. At the White House, Socks became a national sensation, receiving thousands of letters. Unfortunately, Socks didn't get on to well with the one member of the White House staff –Buddy, the Golden Retriever. Socks couldn't stand the dog and apparently took swipes at it every chance she got. Hilary Clinton said, Socks "despised Buddy from first sight, instantly and forever." Socks stayed with the Clinton's until Bill's presidency ended. She was adopted by a family friend and is now living in Southern Maryland. She refuses to even mention her troubles with Buddy.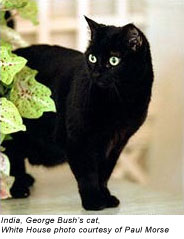 The President and First Cat: The current president Bush is also a cat owner. He has owned three cats since the beginning of his public life as Governor of Texas. One has died but the two others are doing well. Earnest, a six-toed cat named after Earnest Hemingway (who also had a six-toed cat), was given to a family friend before Bush came to the White House. Their present cat is India, who has been with the family for ten years and still lives with the Bush family. The cat was named for the baseball player Rubén Sierra, or "El Indio." India is shy and reclusive, preferring to work out of the spotlight.


Eye on the Presidency: Perhaps the most famous cat in presidential politics is Morris the Cat. Morris was well aware of the prejudice against cats in the political process and tried to change it. Using his natural charm and rugged good looks, Morris ran for President of the United States in 1988 and 1992. His was an effective campaigner; actually becoming better known than the other candidates; at least among a certain demographic. Unfortunately, this demographic was too young to vote. Morris's candidacy stalled when it was discovered that there is a little known clause in the Constitution forbidding cats to run for public office.
But his point was made. He gave cats an important voice in the political process. Cats since then have taken a more active role in our government and continue to make strides. Their contributions have been recognized and they are no longer considered "second fiddle" to dogs.