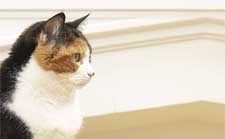 Do Not Disturb: Dogs are gregarious and eager to please, but cats, on the other hand, are distant and methodical. As Mary Bly said, "Dogs come when they're called. Cats take a message and get back to you." Because cats are so patient, they often seem disinterested in the world around them. Or seem in no hurry to involve themselves in events that don't concern them.
But this reputation is not completely deserved. Cat have, at times, thrown themselves into the world around them. Its just that we haven't always noticed. When we do, we are struck by their bravery, devotion, and tenderness. Cats have performed all types of roles, some directly affecting the human population, and some do not.
Undercover Kitty: One cat, Fred, came to be known as Fred the Undercover Kitty because of the work he did as an undercover agent for the New City Police Department. A man named Stephen Vassell was posing as a veterinarian in New York City, but the authorities were having difficulty catching him in the act. So Fred stepped in to uncover the illegal operation. In February of 2006, Fred played a sick patient in a sting operation with his human partner Stephanie Green-Jones. Together they were able to expose Vassell and his illegal operation. He has since been charged with unauthorized veterinary practice, criminal mischief, injuring animals and petty larceny. Fred retired soon after the arrest and was trained as a therapy animal.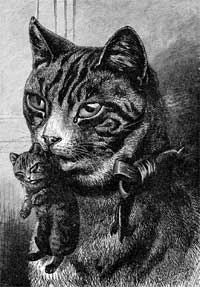 Cat Hero: In Long Island, an award is given annually called the Scarlett Award for Animal Heroism. The award recognizes heroic animals that have sacrificed their own safety to help others, whether human or not. The award was named in honor of Scarlett, a stray cat who risked her own life to save her five kittens.
The cat family had been living in a house in New York when a fire broke out. While the Fire Department was extinguishing the fire, some noticed Scarlett entering the house and carrying out each of her five kittens. This was in spite of the fact that she had already suffered from the fire – her eyelids were blistered shut, her ears were burned, and her paws and coat singed. After Scarlett had gotten each kitten out of the building, she touched them all with her nose, making sure they were alive and safe. Scarlett was treated at a nearby Animal Shelter and is currently living in Long Island.
Beware of Cat: Not all cats, though, have been on the right side of the law. Lewis, a domestic shorthair from Fairfield, Connecticut, was placed under house arrest after being charged with attacking several members of the Fairfield community. Her owner was charged with reckless endangerment and sentenced to only 2 years probation, but only on the condition that Lewis be euthanized. The owner would not agree with the terms and fought the conviction, claiming residents in the community had tormented Lewis, once even attacking the cat with eggs. Eventually, the owner received 2 years probation and Lewis had to remain inside at all times, except when going to the vet. The case garnered quite a bit of public attention. Supposedly, some 500 "Save Lewis" tee-shirts have been sold to support the cat.