Health Topic: Heart Disease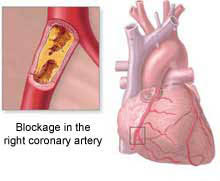 Definition
Heart disease is any disorder that affects the heart's ability to function normally. The most common cause of heart disease is narrowing or blockage of the coronary arteries, which supply blood to the heart itself. This happens slowly over time.
Some heart diseases can be present at birth; these are known as congenital heart diseases.
Other causes include the following:
Hypertension
Abnormal function of the heart valves
Abnormal electrical rhythm of the heart
Weakening of the heart's pumping function caused by infection or toxins
Various forms of heart disease include:
Alcoholic cardiomyopathy
Aortic regurgitation
Aortic stenosis
Arrhythmias
Cardiogenic shock
Congenital heart disease
Coronary artery disease (CAD)
Dilated cardiomyopathy
Endocarditis
Heart attack (myocardial infarction)
Heart failure
Heart tumor
Hypertrophic cardiomyopathy
Idiopathic cardiomyopathy
Ischemic cardiomyopathy
Acute mitral regurgitation
Chronic mitral regurgitation
Mitral stenosis
Mitral valve prolapse
Peripartum cardiomyopathy
Pulmonary stenosis
Stable angina
Unstable angina
Tricuspid regurgitation