Martin Van Buren was elected the eighth President of the United States (1837-41). He was the first President from the State of New York and the first President born after the United States had won its independence from England.
He ran for President three times but only won the first time. His many enemies called him "The Little Magician." He was called this because of his wily and shrewd political maneuvering. He never attained the popularity of some Presidents, but he held the distinction of holding the offices of US Senator, Governor of New York, Secretary of State, Vice President, and President of the United States, all in twelve years. He was also a main founder of the Democratic Party.




Martin Van Buren was born of Dutch descent, on December 5, 1782 in Kinderhook, NY. His father was a simple farmer and tavern owner. Martin went on to study law and was admitted to the bar in 1803. He was elected to the New York State Senate in 1812 and served until 1820. He then served as State Attorney General from 1816 to 1819, and in 1821 he was elected to the United States Senate.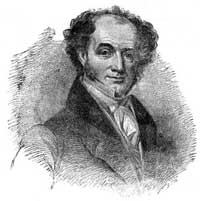 While in the Senate, Martin Van Buren led the opposition movement against President John Quincy Adams and worked diligently to support Andrew Jackson in the upcoming elections of 1828. It was this effort that led to his forming what would become the Democratic Party. Jackson rewarded Van Buren for his support and ability by appointing him Secretary of State. In 1831, Van Buren resigned that position to become US Minister to Great Britain. He encouraged the feud between Andrew Jackson and his Vice President, John Calhoun -- a bit of cleverness that earned Van Buren the vice presidential slot on Jackson's ticket in 1832. Jackson handpicked Van Buren to replace him in 1836.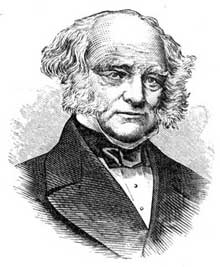 Once elected, Van Buren's political prowess seemed to desert him. He had difficulty winning support even from members of his own party. To secure the Southern party members, he backed states' rights, which allowed for the keeping of slaves as property. He also opposed the abolition of the slave trade in the District of Columbia. At the same time, he did not support the annexation of Texas, which angered many Southerners. He got involved in a protracted war with the Seminole Indians over a policy that would take their land in Florida and move them west of the Mississippi. In addition he had to deal with problems in the North where Americans were involving themselves in a struggle between Britain and Canada.
Van Buren also had problems on the economic front. The country fell into its first great depression 67 days into his presidency. The panic of 1837 was a world-wide depression that hit the rapidly expanding United States particularly hard. Van Buren refused to give government aid during the Panic. In 1840, along with Congress, Van Buren created a new bank, which would be under federal control and not utilized at all by individual states.




Van Buren was not a popular President, and James Polk won the next presidential election. After leaving the presidency, Van Buren worked to restore his image and even made another run for the presidency in 1848 on the Free-Soilers ticket. Losing, he eventually returned to the Democratic Party he'd worked so hard to establish. He returned to his home on Kinderbrook where he died on July 24, 1862.