States-Mania
Enjoy learning with States-Mania, a program that makes geography fun.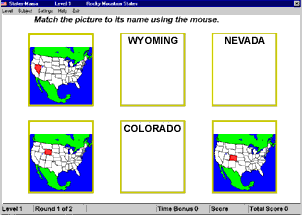 View: Description | Features | Awards | Reviews | Download | Purchase
Game Description
States Mania is an educational game covering all fifty states. It has eight levels and lets you choose what area of the United States you want to cover. Its great pictures and ease of use makes it not only educational but also fun.
Full description
Screen Shots

Game Features
Eight levels and capitivating graphics make learning fun
Teaches almost 1,000 facts about our fifty states
Pictures, sounds, and zany clues add excitement
Lets you to connect to the information in four different ways
Awards
Rated Five Stars by Ziff-Davis.
Reviews
Kate Watkin, Computer Lab Tech, Weatherly Elementary School, Huntsville, AL:
"I just downloaded your States-Mania program from ZDNET and think it's great! I am a Computer Lab Tech. for an elementary school, and this program would be very useful to our 5th grade students."


Barb Slepecky, 5th grade teacher, Liverpool Elementary School, Valley City, Ohio:
"I recently downloaded two shareware programs from ZDNet for my 5th grader's at the elementary school in which I teach. I am extremely pleased with this software (Astro-Mania and States-Mania). Its perfect and compliments my agenda in both Geography and Science."
Purchase
| | |
| --- | --- |
| | Get the registration key to unlock the shareware version of States-Mania and the download information for the other nine registered programs. |
To purchase by credit card using a toll-free number, dial 1-800-999-2734, and ask for Product #8259.
| | |
| --- | --- |
| | Get a CD-ROM via postal delivery containing the registered version of States-Mania and the other nine registered programs. |
To purchase by credit card using a toll-free number, dial 1-800-999-2734, and ask for Product #8260.
Send a check payable to Sheppard Software to:
Sheppard Software
Suite 623, Pavilion
Jenkintown, PA 19046