Astromania
Blast off to Learning Excitement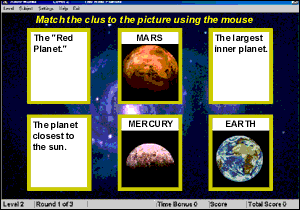 Description
Finally the next generation of fact-learning software is here. Based on US patent number 5,820,386 titled "Interactive educational apparatus, " Astro-Mania teaches all the important facts about 38 astronomical objects such as planets and stars. The program is groundbreaking in several ways. It has a learning database that includes essays, images, and lists of all the important facts for each of the 38 space objects.

Modules based on this database allow the player to connect to the facts in four different ways, enhancing learning. Not only do players connect the fact (or clue) to the name of the object as do traditional games, they also make three more connections. They are: matching the fact to the object's image, matching the name to the object's image, and finally matching one fact about the object to another one.

Additionally, Astro-Mania overcomes educators' chief objection to fact-learning games - that facts are learned in isolation. Astro-Mania includes a review screen after each round. This review screen includes the part of the essay that relates to each fact. Thus, game players can read additional material about the fact to place it into context. This allows the players not only to know the fact but also to understand it.

Astro-Mania includes one study level and seven game levels. The seven game levels allow the player to advance sequentially, to master one level before tackling another. Level one is easy whereas level seven is quite hard, even for those who know astronomy. Each level includes a ranking so that players know exactly how they rate. Players will see their scores jump from Learner to Scientist and finally to Einstein.
Features
Have fun learning astronomy with this exciting game
Lets you to connect information in four different ways
Includes a study level and seven game levels
Includes essays to put each fact in context
Based on US patent 5,820,386 - Interactive educational apparatus and method
Awards

ZDNet Editor's Pick

Rated 5 Stars by Ziff-Davis
Reviews
CNET
A CNET Downloads Pick
Click here for CNET review...

ZDNet
A five-star ZDNet rating
Click here for ZDNet review...

John Cline, Educator and Astronomer
"Having just loaded and run Astro-Mania, I was captivated by the fascinating graphics and large, easy-to-use icons used throughout the program. Obviously, this astronomy teaching tool was designed for children of all ages! My seven year old son stopped by my room to see what all the commotion was about, and he was instantly hooked. The action on the screen is captivating to young minds, and the text is written in a manner which doesn't "talk down" to the child, yet addresses the needs of older students and adults. A 1st grader can read and understand the material, and an adult can glean an understanding of the sometimes daunting world of astronomy through a fun, interactive game environment. I highly recommend this program for educators in elementary through high school curricula, and it is an absolute must for those in he 4th through 7th grades. Though I have purchased and used literally dozens of astronomy programs over the years, as an astronomer and an educator this one certainly meets my criteria for an educational tool."
Joe Padilla, science teacher
"The graphics and the sound are excellent. From what I experienced with Astro-Mania, I honestly believe it is an excellent tool for schools to motivate students to learn Astronomy. By and large, people of all ages, students included, are fascinated by the heavenly bodies. But up to now, aside from textbooks which do not appeal to many, astronomy buffs (or just plain curiosity seekers) have to go to 'planetaria,' which are far too few, buy an expensive telescope which does not really teach, or climb those domed observatories which are even fewer nationwide. Your 'Jeopardy-like' quizzes really test how much astronomy one has learned, how basic or how advanced, and after every quiz, explains clearly the items (planets) contained in the quiz. Providing for a retest will surely reinforce one's memory with knowledge of items missed.

Purchase

Get the registration key to unlock the shareware version of Astro-Mania and the download information for the other nine registered programs.*
*You must download the shareware version of Astro-Mania to use this purchase method

Purchase online via credit card

To purchase by credit card using a toll-free number:
Dial 1-800-999-2734, and ask for Product #8137

Get a CD-ROM via postal delivery containing the registered version of Astro-Mania and the other nine registered programs.

Purchase online via credit card

To purchase by credit card using a toll-free number:
Dial 1-800-999-2734, and ask for Product #8138

Send a check payable to Sheppard Software to:
Sheppard Software
Suite 623, Pavilion
Jenkintown, PA 19046
Screen Shots

Level One - Match the name of the planet to its picture.

Level Two - Match clues to names with pictures.

Level Two Review Screen

Level Three - Match the clues to the pictures.

Level Four - Match 6 clues to 6 pictures with clues.