Nicaragua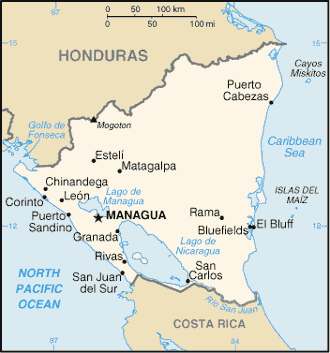 Map Courtesy CIA World Factbook

Nicaragua is a republic in Central America. It is the largest Central American nation but the least densely populated. It is bordered on the north by Honduras and on south by Costa Rica. Its western coastline is on the Pacific Ocean, while the east side of the country is on the Caribbean Sea. The country's name is a combination of Nicarao, the most populous indigenous tribe when the Spanish arrived, and the Spanish word Agua, meaning water, after the two large lakes in the west of the country, Lago Managua and Lago Nicaragua.

Colonized by Spain in 1524, Nicaragua achieved independence as an independent state in 1821 and joined the United Provinces of Central America. It separated from the federation in 1838, becoming a completely sovereign republic in 1854.

The nation's early history was marked by the desire of U.S. commercial interests to make use of Nicaraguan territory. When gold was discovered in California, Cornelius Vanderbilt's Accessory Transit Company undertook a steamship and carriage business to link Greytown, at the mouth of the San Juan River (linking the Lago Nicaragua with the Gulf of Mexico), to the Pacific. Nicaragua's strategic position has ever since been of interest to the United States.

Nicaragua has seen U.S. military interventions and lengthy periods of military dictatorship, the most infamous being the rule of the Somoza family (supported by successive U.S. governments) for much of the early 20th century. In 1979 the Somoza family was deposed, and a multi-factional coalition took control of the government. Conflicts within the coalition eventually resulted in power being consolidated by Daniel Ortega, who was elected President in elections marred by opposition refusal to participate but validated as free and fair by election observers from various Western democracies in 1984. Ortega and his Sandinista government implemented a series of ambitious socialist reforms to the country, but the new president's rule was undermined by increasing civil war in which the United States, under President Ronald Reagan, covertly funded anti-Communist mercenary forces called Contras despite a 1982 Congressional amendment prohibiting aid.

Multi-party elections were held in 1990, and the country has retained a fairly stable democracy since then.

This article is licensed under the GNU Free Documentation License. It uses material from the Wikipedia article "Nicaragua".