Ecuador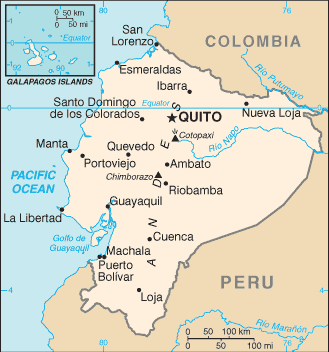 Map Courtesy CIA World Factbook

The Republic of Ecuador is a country in northwestern South America, bounded by Colombia on the north, by Peru on the east and south, and by the Pacific Ocean on the west. The country also includes the Galápagos Islands (Colón Archipelago) in the Pacific, about 965 km (about 600 mi) west of the mainland. Named after the Spanish word for equator, Ecuador straddles the equator and has an area of 272,045 sq km (105,037 sq mi). Quito is the country's capital.

Advanced indigenous cultures flourished in Ecuador long before the area was conquered by the Inca empire in the 15th century. In 1534, the Spanish arrived and defeated the Inca armies, and Spanish colonists became the new elite. The indigenous population was decimated by disease in the first decades of Spanish rule--a time when the natives also were forced into the "encomienda" labor system for Spanish landlords. In 1563, Quito, Ecuador became the seat of a royal "audiencia" (administrative district) of Spain.

After independence forces defeated the royalist army in 1822, Ecuador joined Simon Bolivar's Republic of Gran Colombia, only to become a separate republic in 1830. The 19th century was marked by instability, with a rapid succession of rulers. The conservative Gabriel Garcia Moreno unified the country in the 1860s with the support of the Catholic Church. In the late 1800s, world demand for cocoa tied the economy to commodity exports and led to migrations from the highlands to the agricultural frontier on the coast.

A coastal-based liberal revolution in 1895 under Eloy Alfaro reduced the power of the clergy and opened the way for capitalist development. The end of the cocoa boom produced renewed political instability and a military coup in 1925. The 1930s and 1940s were marked by populist politicians such as five-time President Jose Velasco Ibarra.

Recession and popular unrest led to a return to populist politics and domestic military interventions in the 1960s, while foreign companies developed oil resources in the Ecuadorian Amazon. In 1972, a nationalist military regime seized power and used the new oil wealth and foreign borrowing to pay for a program of industrialization, land reform, and subsidies for urban consumers. With the oil boom fading, Ecuador returned to democracy in 1979, but by 1982, the government faced an economic crisis, characterized by inflation, budget deficits, a falling currency, mounting debt service, and uncompetitive industries.

Since the return to democracy, Ecuador has had a succession of presidents who have tried to break the oligarchy by attempting various economic reforms. Most have failed, either due to resistance by the ruling class or because of corruption. In 2005, Ecuador's Congress staged a coup by overthrowing its President and installing the Vice President,due to corruption and civil unrest.

This article is licensed under the GNU Free Documentation License. It uses material from the Wikipedia article "Ecuador".