Belize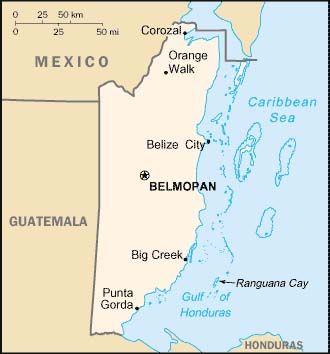 Map Courtesy CIA World Factbook

Belize is a small nation on the eastern coast of Central America, on the Caribbean Sea bordering Mexico to the northwest and Guatemala to the west and south. The country is a parliamentary democracy and constitutional monarchy which recognizes Queen Elizabeth II as Sovereign. The nation of Honduras is a near neighbour, 75 km away (47 miles) across the Gulf of Honduras to the east. The name is derived from Belize City, the former capital and largest city, and the Belize River. In Spanish it is usually called Belice.

Belize was a British colony for more than a century, known as British Honduras, until 1973. It became an independent nation in 1981.

Belize is a member of CARICOM and its citizens tend to consider themselves a Caribbean, and not Central American, nation.

The Maya civilization spread over Belize between 1500 BC and AD 300 and flourished until about AD 900. The first Europeans arrived in the area in the early 16th century and settlement began with shipwrecked English seamen in 1638. This period also was marked by piracy, indiscriminate logging and sporadic conflict with Native American tribes and New Spain.

The name Belize is traditionally said to be from the Spanish pronunciation of Wallace, the name of the pirate who created the first settlement in Belize in 1638. Another possibility is that the name is from the Maya word belix, meaning "muddy water", applied to the Belize River.

Belize grew into a more official colony of the United Kingdom during the late 18th, early 19th century under the name of British Honduras, which became a Crown Colony in 1862. British Honduras became a self-governing colony beginning in January 1964 and was renamed Belize in June 1973; it was Britain's last colony on the American mainland. George Price led the country to full independence in September 1981 after delays caused by territorial disputes with neighbouring Guatemala, which did not formally recognise the country until 1992.

Hurricane Hattie inflicted significant damage upon Belize in 1961. The government decided that having a coastal capital city that is below sea level was too much of a risk. Over the course of several years the British colonial government designed a new city at the exact geographic centre of the country, and in 1970 began the slow process of moving the governing offices to the capital of Belmopan.

Throughout Belize's history, Guatemala has claimed ownership of all or part of the territory. This claim is occasionally reflected in maps showing Belize as Guatemala's most eastern province.

This article is licensed under the GNU Free Documentation License. It uses material from the Wikipedia article "Belize".