Prime Time Math
Improve your word problem skills with this fun game.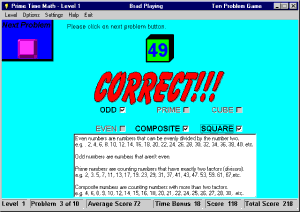 View: Description | Features | Awards | Reviews | Download | Purchase
Game Description
Prime Time Math helps you improve your word problem solving skills and boost your SAT scores. Skills covered include prime numbers, factoring, squares, cubes, remainders, fractions, percentages, algebra and most of all logic.
Full description
Screen Shots

Game Features
Teaches word problem
Learn all about primes, squares, cubes and counting numbers
Awards
Rated 5 stars in 4 out of 7 categories by Shareware Junkies!
A ZDNet 's Editors' Pick!
Reviews
ZDNet
A four-star ZDNet rating
Click here for ZDNet review...


Adam Gorny, Principal of the Academy for Mathematics and Science - Brampton, Ontario, Canada:
"I must admit that some puzzles were even too hard on the 'experts' (TUTORS), but then that makes them grow as well. Over all you get the 'EXCELLENT' mark."


David Brooks, Grade 8 Math Teacher, Thomas Jefferson Middle School - Fair Lawn, NJ 07410:
"I absolutely love it! Thanks again for a great job."
Purchase
Get the registration key to unlock the shareware version of Prime Time Math and the download information for the other nine registered programs.*
*You must download the shareware version of Prime Time Math to use this purchase method.
To purchase by credit card using a toll-free number, dial 1-800-999-2734, and ask for Product #7734.
| | |
| --- | --- |
| | Get a CD-ROM via postal delivery containing the registered version of Prime Time Math and the other nine registered programs. |
To purchase by credit card using a toll-free number, dial 1-800-999-2734, and ask for Product #7735.
Send a check payable to Sheppard Software to:
Sheppard Software
Suite 623, Pavilion
Jenkintown, PA 19046